by Caroline
My children have been to Paris four times.
I have to pause after writing that sentence. My children have been to Paris four times? How did that happen? How did they get so lucky?
Well, first there was the wonderful boat trip, a week exploring rivers and canals in southwestern France, that my parents took us all on to celebrate their 50th anniversary. Tony and I considered the consequences of jetlagged children in a confined space and (twist our arms) decided to stop in Paris first. Subsequent summers brought my sister teaching in Oxford, a friend living temporarily in Portugal, other friends on sabbatical in Paris and– through it all — a convenient nonstop flight from San Francisco to Paris bringing us closer to people we love. So now here I am, the mother of two children who have a fair amount of experience in the City of Light.
"The City of Cheese," Ben might say, with a grimace. "The City of Sauces," Eli might add, shuddering.
It seems churlish to complain, but the world's food capital doesn't do very well by my vegetarian family. And honestly, that's ok with me; we eat what we eat and don't expect people — or countries — to accomodate our habits. But it has made staying in beautiful Paris a little more difficult than it might be for families whose kids will happily tuck into steak frites or a cheese crepe. We find ourselves challenged in a city where restaurants don't want to make adjustments to the dishes on the menu (just try ordering plain pasta!) and don't like to accomodate a child who can't make it through a full three-course meal. In one of my favorite small guides to the city, Karen Uhlmann's Paris for Kids, she writes, "I use my museum method for taking children to dinner in Paris (one museum, then one park): One pasta night for you; one bistro night for me." She then goes on to describe her children eagerly trying duck for the first time (and loving it) or a place that offers an oyster ice cream that her children are still talking about (I bet they are!) I aspire to her experience, and keep her recommendations on the shelf for a time when my kids have expanded their palates.
For now, since Parisiens don't expect (and don't really want) children at restaurants, we make like Parisien families and try to stay out of them. In the past, we've rented apartments and cooked for ourselves, using the glorious produce available in the various markets. But this year, we weren't staying in Paris long enough to justify an apartment. We didn't pack food; we stayed in a hotel. It offered a spectacular breakfast buffet that kept us going for hours; we ate salads from the wonderful Monoprix for lunch; and then we collapsed in the hotel while Tony fetched us take-out for dinner. We wound up eating a lot of Italian and (perhaps weirdly) sushi in Paris, and it worked out just fine.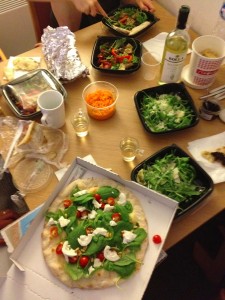 Our hotel picnic dinners gave us some nice downtime together before we headed back out into the beautiful night.