by Caroline
As I approach my tenth wedding anniversary, I've been reminiscing about our extravagant celebration of my parents' fiftieth, a cruise in southern France, guided over by a wonderful crew, including the inimitable Chef Charlie. Charlie made every meal an event, and now when Eli asks to light the candles or Ben folds all our napkins in a new way, I think about what we all learned at Charlie's table.
Of course, life is not a cruise through southern France, and there is no Chef Charlie here to make one of the things I loved most about this trip: our daily lunch of les trois salades. Here, it is just me with my vegetables, but with the farmer's market and the CSA ramping up, I'm doing pretty well with some new combinations. Check these out: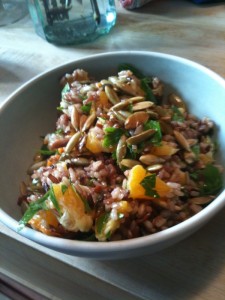 The recipe came in our CSA box, and is credited to Jonathan Miller:
2 c cooked rice (I used a mix of brown and wild rices; this is, of course, a perfect use for leftovers)
the zest and juice of one orange
3-4 more oranges, peeled, sectioned, and chopped into bite-sized pieces
1/3 c toasted pumpkin seeds
a handful of chopped cilantro or parsley
a handful of spinach leaves
Toss all the ingredients in a bowl, and season with olive oil, salt, and pepper to taste. You could also add some grilled fish or chicken to this, or crumble in some feta or ricotta salata.
Salad #2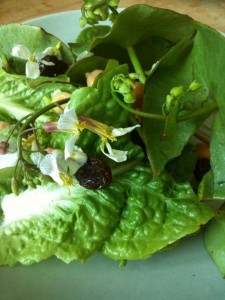 This one came from Real Simple magazine; the amounts are for 4-5 people, but, like any salad, it scales up and down easily, and to taste.
6 cups of mesclun (I had baby romaine, arugula flowers, and miner's lettuce, so it was particularly pretty)
2 carrots, scrubbed or peeled, halved lengthwise and thinly sliced
1 15 oz can chickpeas, rinsed
1/2 c dried cherries (a staple in my house since I discovered this recipe)
1/4 c fresh dill sprigs
4 – 5 T vinaigrette
Toss all the ingredients together, season to taste with salt & pepper, and serve.
And finally, courtesy of one of my food heroes, Jamie Oliver, comes the tarragon salad.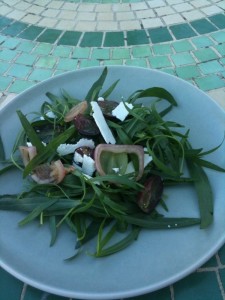 Again, the measurements aren't entirely precise here (I'm sure my handfuls are smaller than Jamie Oliver's) but it's a salad: use amounts that look good to you.
2 shallots, peeled and very thinly sliced
a pinch of sugar
4 T white wine vinegar
4 small bunches of fresh tarragon, leaves picked from the stems
4 handfuls of green and red seedless grapes, sliced in half
ricotta salata or pecorino cheese, grated on top, to taste
salt, pepper, and olive oil to taste
Toss the shallots with the sugar and vinegar and let sit a few minutes, while you pick over the tarragon and slice the grapes. Toss the tarragon with the grapes, shallots, and some of the shallot-y vinegar. Grate cheese over the top, and season with salt, pepper and olive oil.
If you don't have lots of tarragon, or don't want a full salad of it, by all means augment with other greens. But try it just once with nothing but tarragon; it's delicious, and truly, you will feel transported. Perhaps not all the way to southern France, but pour a crisp white wine and slice some crusty bread, and you're almost there…