by Caroline
This past year, my 6 year-old got out of school an hour earlier than my 9 year-old, and we spent that hour in the school library or, on sunny days, in the park across the street. Once spring came, an ice cream truck parked at the entrance and as we crossed the street into the park every day, Eli would ask, automatically, "Can I have an ice cream?" And I'd say, just as automatically, "Nope," and list the snacks I'd brought in my purse. It was a routine that caused no particular stress or bother; we didn't need any legislation to ban the ice cream trucks, we just went on our way.
I don't have a single good reason for my school year, week day ice cream ban (which is really too strong a word for this routine), and probably if Eli had lobbied harder I would have caved. But he didn't, so I didn't. We would play in the park for an hour, he would munch on an apple and a muffin and maybe some peanut butter crackers or a MoJo bar, and then we would pick up Ben and snack some more. I don't think either of them feels at all deprived of sweets, and if you have read this blog any length of time, you also know they are not — it's just that most of the time, I like to make them at home.
But when summer vacation comes, I feel like celebrating. Even though the weather in San Francisco isn't so summery, I embrace the season with sandals and bright pink nail polish and home made ice cream and field trips with the kids to the latest ice cream and donut shops: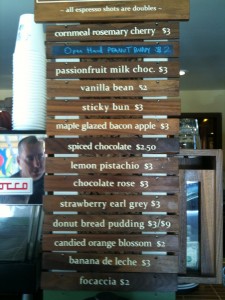 My friends tease me about my summer food enthusiasms, but my family is certainly not complaining. And when we travel, as we have been this last week (and as Lisa has written along the same lines) I am just a little sweeter, and even more inclined to say yes to treats. They are morale and energy boosters, they are a way to sample the local food culture, they are a break in a busy day of walking from one science museum to the next. On the ferry to San Juan Island last week, which seemed in some ways so foreign, the boys were delighted to find their favorite ballpark treat: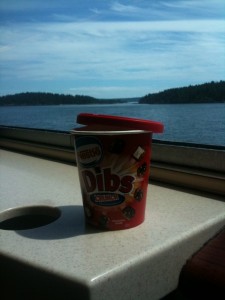 And after a surprisingly good lunch from the snack bar at one of Vancouver's amazing public pools today, Eli chose from the standard ice cream menu: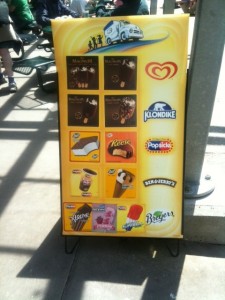 While Ben bypassed that for a less typical post-swim snack: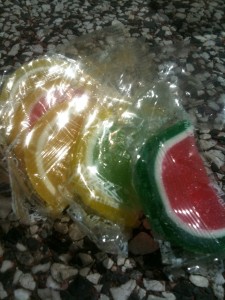 This afternoon, flagging after a long walk from the planetarium to the Granville Public Market, we stopped for donuts, and we're already looking forward to fudge tomorrow at the Capilano Suspension bridge, because apparently fudge is one of the things one buys to survive a walk across a sky-high suspension bridge, and because we are on vacation, and because it is fun to say yes.