posted by Caroline
Years ago, the "sorbet trio" became such a ubiquitous feature on San Francisco menus that it was the subject of a piece in the local paper. The enterprising reporter called dozens of restaurants, from Gary Danko and Postrio to more modest locales, asking what the night's sorbet trio was. Everyone had one, whether it was a fancy lemon-tarragon, creme fraiche, and espresso, or a more humble choc-van-straw. And then just as quickly as it took over, it faded, replaced by the unexciting line at the bottom of the dessert menu: "Selection of House made Sorbets." OK, fine. But I kinda miss the trio; I didn't have to choose.
On the boat, we experienced the daily salad trio. Sometimes it looked like this:
And sometimes it looked like this: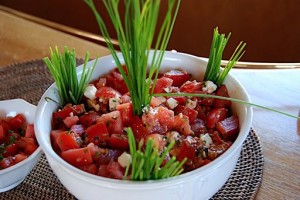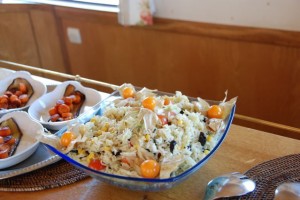 And while the boys wouldn't touch les trois salades, we learned to eat them all quite happily, making small (or not-so-small) mounds on our plates each day, admiring Charlie's ability to balance flavor, texture, and color.
"Who will make us our three salads when we get home?" we asked each other sadly. I've never been the kind of person who cooks a week's worth of dinners on a weekend afternoon, not much of a freezer or a prep-in-advance kind of cook, really, but the three salads have inspired me to spend an extra hour or so shredding carrots, boiling potatoes, and chopping veggies to keep ready in the fridge. I'm eyeing leftover rice and pasta with new interest, considering the possibilities of toasted nuts and diced fruits. I may not manage the salad trio at home, not right away, but I have aspirations, which is a start. I may even, if I keep it really simple, bring the boys along with me. Stay tuned…