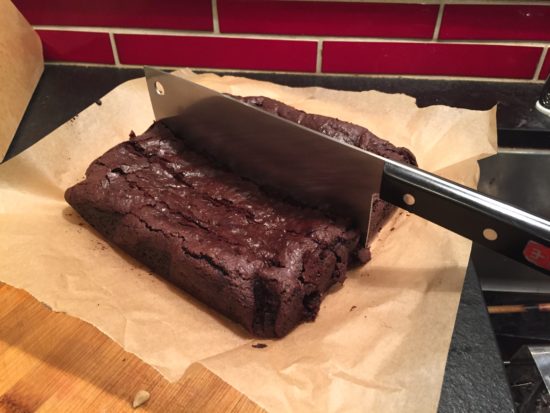 We've been making this fabulous recipe for a while now, and every time, I complain about the recipe format. So I'm rewriting it here mostly for my own benefit, really, but if you're looking for an excellent vegan brownie, look no further.
Vegan Brownies
Preheat oven to 350
Line an 8×8 square baking pan with parchment
Combine in a small bowl and set aside:
1 1/2 T flaxseed meal
3 T water
Whisk together
¾ c all purpose flour
1 ½ c almond meal
½ c cocoa powder
½ t salt
¼ t baking soda
Melt together
6 T vegan shortening/coconut oil
½ c chocolate chips
add to the melted chocolate
1 ¼ c white sugar
flax mixture
6 T almond milk
1 t vanilla
Add wet mixture to dry and stir well.
Add
¼ c chocolate chips
Spread the batter in the pan and then bake at 350 for 30-35 minutes, until a tester comes out with moist crumbs, not liquid. Cool completely before slicing.