by Lisa
Not long ago, on a family trip to San Francisco, Ella, Finley, and I found ourselves staring at the counter of a French bakery, at a pile of croissants.  They didn't know what they were, and as I explained to them the wonder that is a croissant, I found myself telling them not about croissant, exactly, and how good they can be, but about the summer I spent working in the French Alps at  a summer camp.  They know many stories from this time, including the fact that no one, not a soul, spoke even a word of English, so I was forced very quickly to abandon all pretense of speaking, looking, or acting even vaguely English-speaking.  They know that we ate baguette and cheese, or sugared candy or chocolate every day for afternoon snack.  They know that my first night, on the all night train, the youngest child, an adorable little 4-year old, looked up at me and said, "But you don't speak French" (in French, of course), when I had uttered what I thought was a perfectly comprehenisble sentence in French.  Things changed quickly and by the end of the summer, I could enter the mountain village store and be served and local restaurant and be served without disdain; I dreamed in French, and upon my return to Paris functioned like a native speaker. Sadly, this is no longer true.
France was also the place where I learned to eat meat again, but that's another story. The anecdote I found myself telling my children a we stared at that golden counter was about breakfast.
On the counselor's mornings off, we got to order from the bakery, which meant croissant–plain, chocolate, etc.–and whatever we wanted would be brought to our room, with our choice of cafe au lait, chocolate chaud, etc…It was quite wonderful to wake up to perfect croissant and eat them and go right back to sleep while the French children screamed.
And every morning we drank big bowls of cafe au lait or chocolate, too, which Ella and Finn found really funny.
Not long after, as I was marketing I spied a box of frozen TJ chocolate croissants, so of course I bought them, and for some reason had the impulse to sneak them into my cart so Ella didn't see.  Of course, Caroline and her family were fortunate enough to travel and eat in France last summer, and you can read about it all beginning here, but for the forseeable future, I'm going to have to recreate a little bit of France in our California home, so I bought the box.
We were in the midst of a rainy long weekend, and while many were away on ski weekends, I had been baking, and braising and nesting and so that night, I planned a petit dejeuner. The croissants are frozen, and you place them out on a cookie sheet overnight to proof, or rise.   I did this, set the table, boiled some eggs, set out bowls for the chocolate and coffee, prepped the espresso machine, and filled a bowl of fresh fruit.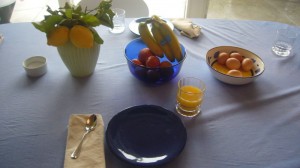 I also left a sign that said "Do Not Touch! Not Cooked!" on the croissants, since Ella and Finn are known to be curious when it comes to food, and they were bound to be up first.
The next morning, Ella was exuberant: "I can't wait to taste my first croissant!" she said, and while they were baking, I made the chocolate and coffee and whipped some cream.  They thought the bowls of chocolate chaud were hysterical, but they happily slurped them up just like a child should on a cold, rainy holiday morning.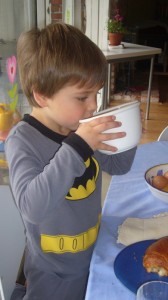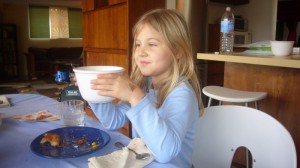 When the croissant came out, Finn knew right away he was on to a good thing, because the moment he picked one up–before putting a single bite near his mouth– he exclaimed, "Mmmmm!  They're so buttery and warm!"  And even though they are not the best croissant you will ever have, they were lovely, and that is all you really need to know.