by Caroline
The 2nd grade curriculum at my son's school is built partly on the study of communities, so every month or so there is a field trip to a different part of the city, where the kids hear stories about the neighborhood and eat some snacks: fried chicken feet in Chinatown, tacos in the Mission, you get the idea. The Civic Center field trip was timed to hit the Farmer's Market, and although Ben missed it because of a nasty case of strep throat, the kids had such a ball, tasting fresh produce and chatting with the farmers, that the 2nd grade teachers decided to put on a classroom farmer's market the following week.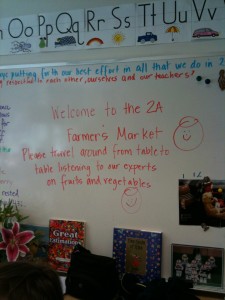 The kids were assigned a single fruit or vegetable, and worked with partners to create informational posters about their produce: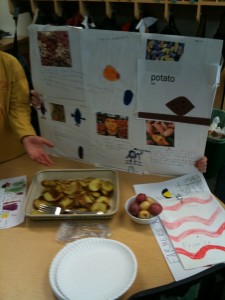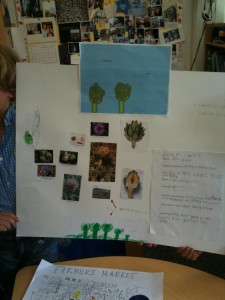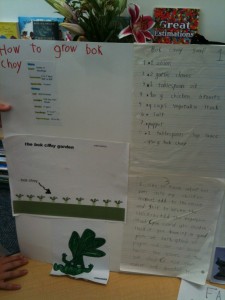 Ben was assigned the orange, and not only did it give us a nice excuse to talk with the orange farmer at our neighborhood market, but (at my dad's suggestion) we checked out John McPhee's lovely book on oranges and learned this:
"Botanically, [oranges] are spectacularly complicated. They can be completely unripe when they are a brilliant orange and deliciously ripe when they are as green as emeralds. An orange grown on one side of a tree is better than an orange grown on the other side. Citrus is so genetically perverse that oranges can grow from lime seeds. Most California lemons grow on orange roots. Most Florida oranges grow on lemon roots."
Oranges are crazy! And they're also delicious. The farmer's market offered naval oranges, Valencia oranges, and Moro oranges, so we bought some of each for Ben to cut up and share with the students, parents, and school staff who came to the market. He even wore an orange shirt for the occasion.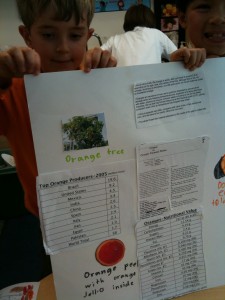 Ben loved the project, as his enthusiastic classmates clearly did, too. And I loved seeing food and farming get such close attention in the classroom. Now all we have to do is find room at the school for a garden…