by Caroline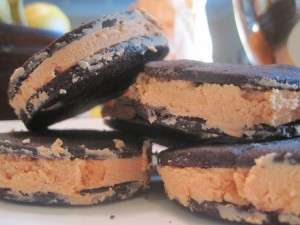 The other day we were brainstorming about foods we could make to celebrate our team — the San Francisco Giants — moving into the playoffs. Conveniently, their uniforms are a seasonal black and orange so we were thinking pumpkin muffins with chocolate chips (or chocolate frosting), and for dinner, black bean and sweet potato enchiladas. Lisa, always working the cocktail angle, suggested orange soda with black licorice straws, and of course we've already seen her gorgeous Giant Marys.
Then my friend Liz reminded me about the oreo cookie recipe I sent her long ago (and then promptly lost), and suggested making an orange filling. Perfect! Now, there are many recipes online for homemade oreos (including one that calls for devil's food cake mix; hmmm), and most use an egg — which I'm sure makes a nice chocolate cookie; but, if you're after the crumbly shortbread texture of the oreos of your youth, use this recipe (which Liz typed up and saved on her computer, thank goodness.) I'm sorry I can't recall it's source, so please, if you recognize it, let me know so I can offer proper credit!
"Oreo" Cookies
In a mixing bowl, beat till fluffy
1 cup room temperature unsalted butter
1/2 cup sugar
In a separate bowl, sift together
1 3/4 cups flour
3/4 cup cocoa*
1/2 tsp salt
Gradually add the dry ingredients to the butter to make a stiff dough. Remove from the bowl, knead a couple times on a lightly floured board to make sure it's fully combined, then shape into a disk and refrigerate 4 hours or overnight.
To bake:
Preheat oven to 350°. Cut the dough into quarters. Working with one quarter at a time and keeping the remainder cold, roll out to about 1/4" thickness. Cut into circles or whatever shape you desire, place on a cookie sheet, and bake 15 minutes or till firm. Cool on a rack. Repeat with the rest of the dough.
When cool, make sandwiches with the following filling:
1/2 cup room temperature unsalted butter beaten till fluffy with
2 1/2 cups confectioners sugar and
1/2 tsp. vanilla
*Note: I use half regular cocoa and half black cocoa (available from King Arthur Flour) for a real "oreo" color.