by Caroline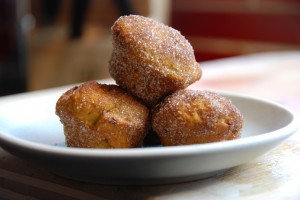 This time of year, seasonal eating is often also holiday eating, as we slide from Halloween through Thanksgiving into Christmas and New Year's. I want to take each of these in turn, give them their due, and then take a breath before the next one is upon us.
Which is why I love Advent. The liturgical calendar I've followed my whole life gives us four weeks of contemplative preparation for Christmas, four weeks of lessons and carols and calm. But, sadly, no specific Advent foods. Advent's a quiet period, not quite as abstemious as Lent, but still not a big feasting time. And this year, when its first week overlaps with Hanukkah and my boys are coming home from school talking about dreidels and menorahs, it's been a little hard to keep them focused on our traditions. And who wants to compete with latkes, anyway?
But I think I have hit on the perfect Hanukkahvent (or perhaps Adventukkah) snack: the doughnut muffin. A bath in melted butter and cinnamon sugar gives it the fried crispiness of a latke, but it is baked — not fried — to suit the more temperate Christian holiday. Compromise never tasted so good.
Pumpkin Doughnut Muffins
10 tablespoons (1 1/4 sticks) unsalted butter, room temperature, plus more for pan
3 cups all-purpose flour (spooned and leveled), plus more for pan
2 1/2 teaspoons baking powder
1/4 teaspoon baking soda
1 teaspoon coarse salt
1/2 teaspoon ground nutmeg
1/4 teaspoon ground allspice
1/3 cup buttermilk
1 1/4 cups pure pumpkin puree
3/4 cup light brown sugar
2 large eggs
For the Sugar Coating
3/4 cup granulated sugar
2 1/2 teaspoons ground cinnamon
1/4 cup (1/2 stick) unsalted butter, melted
Preheat oven to 350 degrees. Butter and flour 12 standard muffin cups, or line them with paper liners.
In a medium bowl, whisk together flour, baking powder, baking soda, salt, nutmeg, and allspice. In a small bowl, whisk together buttermilk and pumpkin puree. In a large bowl, using an electric mixer, beat butter and brown sugar until light and fluffy. Beat in eggs, one at a time, scraping down bowl as needed. With mixer on low, add flour mixture in three additions, alternating with two additions pumpkin mixture, and beat to combine.
Spoon 1/3 cup batter into each muffin cup and bake until a toothpick inserted in center of a muffin comes out clean, 30 minutes.
Meanwhile, in a medium bowl, combine granulated sugar and cinnamon.
Let muffins cool 10 minutes in pan on a wire rack. Working with one at a time, remove muffins from pan, brush all over with butter, then toss to coat in sugar mixture. Let muffins cool completely on a wire rack. (Store in an airtight container, up to 1 day.)
recipe from Martha Stewart, Everyday Food