by Lisa
This recipe is an adaptation from my favorite cooking magazine:  La Cucina Italiana.  Sometimes the recipes are complicated and not friendly for weeknights or busy families, but the articles and pictures are terrific, and the recipes often astonishing.
Our orange tree is reaching its peak, and on a very rainy Saturday afternoon, this dish looked like just the warm, rich dish we needed on a very rainy Saturday night. I could make it with what I had in my pantry (& on my tree).  It's simple enough for a weeknight, elegant and rich enough for a weekend.  Think of it as a kind of fancy variation on a Fettucine Alfredo (with an egg), which I'll write about tomorrow. It's another example of how seasonal eating can be serendiptious, spontaneous, and fulfilling. If you keep your kitchen stocked with ingredients available in and appropriate to the season, you can almost always whip up something great.  (Unlike, say, keeping around a zucchini in Februrary January (apparently I just lost a month…), which is what I saw an unnamed Food Network "star" cook with last night….and I nearly gagged on my cauliflower broiled w/emmenthal and cream….).
Also, in keeping with the gastronomic education of the kids, this is interesting because it pairs the familiar with a new taste.  It looks like something they'd love; it looks a little boring, maybe, but the flavors are a sunny surprise and a comfort.  More: the kids aren't used to seeing zest in their pasta, but they loved the flavor so, as we say, they got over it quickly. It's also more filling, so they chose to eat less of it which was fine for me. (I had a couple of warm lunches.)
This is a rich and filling dish, so adapt your side dishes or first courses accordingly.
Winter Citrus Pasta
1 lb pasta
zest of one orange
1 cup cream
1 T butter
about a tablespoon of fresh chopped sage OR thyme
1 beaten egg
1/2 cup grana; parmesan, or pecorino, or more to taste
salt & pepper
Put orange zest in cream and heat (in microwave if you like) to near boiling. Let steep.
Cook pasta and drain.
In pasta cooking pot, sautee sage or thyme for a minute or so to release fragrance.
Lower heat and add pasta to pot. Toss with cream/zest mixture.
Quickly stir in the egg and the cheese; this will make a thick and creamy sauce.
Serve immediately.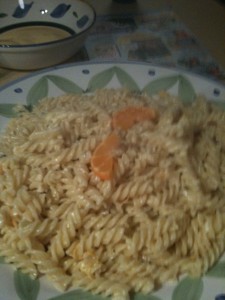 The following was appended on Jan. 12, 2010
And for those of you suitably excited about this, and not afraid of the extra eggs and cream, the recipe as originally published is below. Read it, read my quicker version, and adapt to your kitchen, time frame, your taste and tolerance for cream.  Both recipes are satisfying and delicious, as long as you  don't leave out the egg or cream. Or, um, the zest.
zest of 2 oranges
1 1/2 T butter
1 lb spaghetti
1 1/4 cups heavy cream
1/3 cup chervil
1/2 cup parmesan
3 large egg yolks
Bring a large pot of salted water to a boil.
Warm serving plates in a low oven.
Melt butter in a medium skillet until foam subsides. Add zest and a pnich of salt, reduce heat, and cook until zest is soft and golden.  Set aside.
Bring cream, chervil, salt to a boil in a small saucepan.  Simmer for 4 minutes.
Cook pasta until al dente.
Just before pasta is served, spoon 3 T of cream onto serving plates. Using the back of spoon, spread the cream to cover plates.
Darain pasta and toss with remaining cream, zest and egg yolks until fully incorporated.
Season to taste with salt and pepper.
Garnish with zest and chervil.
Serve immediately.