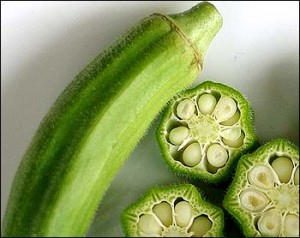 This is not really a post about okra (though I do have a simple recipe below) but a reminder that when kids are involved in your meals, they should be involved in your meal planning. My husband and I know this, of course, and we do involve them to a certain extent — we ask whether they want pasta or rice; we let them vote on cooked spinach vs spinach salad; we bring them to the farmer's market and let them pick things out. But lately we don't often go to the grocery store with them, and that was site of this weekend's revelation.
Tony and Ben had snuck out secretly to get a Christmas tree while Eli and I were at a birthday party. Decorating a Christmas tree requires eggnog, of course, so the guys headed off to our local market, which you enter through the produce section. Ben spotted the okra and remembered he loves it. Years ago, a friend made an Indian-spiced fried okra dish that he devoured, and Ben still talks about it (I remember it simply as the first time I enjoyed okra). But okra doesn't show up in our CSA box and I don't seek it out at the farmer's market. Frankly, I don't love it, but that shouldn't be the most important factor now that the kids are getting older, and especially not if we want them to try new things. Plus, it is incredibly easy to cook.
Tony gets the credit for this simple recipe, which was delicious and different and everybody enjoyed (except Eli, to whom I suggested he could learn to like it). It inspired an entire Indian feast, with a simple curry of potatoes and tofu, papadum, and lime-mango chutney. More than that, it inspired us all to think we might possibly be taking the first small steps away from the kids narrow food choices of the last couple years.
Simple Fried Okra
Wash and trim the okra, then slice it into 1/2″ rounds. Fry it in a bit of olive oil until it has started to brown and crisp around the edges, about 6-10 minutes. Sprinkle with a mixture of ground cumin, coriander, turmeric and a bit of salt.