by Caroline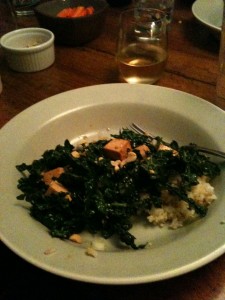 I have to admit that a food article about cooking post-kids is speaking to me when I read, "Well, I used to actually cook…Now I just make food."
I might like to think I resist this cliché, but really, the days of poring over cookbooks to find new recipes, making spontaneous market trips (or multiple market trips) to assemble ingredients, and knowing that whatever I put on the table will be greeted warmly by my dining companions — those days are pretty much on hold right now. Oh, they aren't over entirely; we do find new things to cook, especially when we take the kids with us to the market, but the priority these days is not on the new, but on what's quick, reliable, and healthy.
When I do want to innovate, I follow a friend's advice to make sure there's at least something on the table I'm confident the kids will like. Like Lisa using cornbread to ease the way to chili earlier in the week, I usually make sure there's either bread or rice on the table (our standard rice/quinoa mix) when I offer something new. In this recipe, I was fairly confident they'd eat the tofu (though the lemon juice made it a question), and pretty sure I'd get at least one thumbs up on the kale (from my 3rd grader; the kindergartner's on a bit of a vegetable strike at the moment). The chopped peanuts were a plus, too; my kids, like most, adore any extras they can sprinkle on the top of a dish and in our house we've retained Ben's early malapropism and delight the boys by calling these extras not condiments, but contaminants.
So, Eli, the kindergartner took one bite of the tofu, pronounced it delicious, and only ate one more bite. He tried one dainty scrap of kale and pushed the rest aside in favor of carrot sticks, a big helping of rice, and a handful of peanuts. His older brother ate the entire meal, as served. That's a success in my book, and I'll be making this one again.
I'm copying in the recipe just as it appeared in the San Francisco Chronicle, in an article by Amanda Gold.
10 ounces extra-firm tofu
1/4 cup low-sodium soy sauce
1/4 cup lemon juice (from about 2 lemons)
2 tablespoons honey
1 tablespoon toasted sesame oil
3 tablespoons olive oil
Kosher salt and ground black pepper, to taste (I left these out)
1 or 2 bunches Lacinato or Tuscan kale (about 8 cups, chopped)
1/3 cup roasted, salted peanuts, coarsely chopped
2 tablespoons thinly sliced green onions
Cut the tofu into 1-inch cubes, and place on paper towels to
drain while you make the marinade.
Whisk together the soy sauce, lemon juice, honey, sesame oil, 2
tablespoons olive oil, and salt and pepper to taste in a medium-sized bowl. Add the tofu, and gently toss to coat; let marinate for about 15 minutes.
Meanwhile, remove the tough stems and ribs from the kale, and cut the leaves into 1/4- to 1/2-inch slices. Rinse and dry very well. Take care to remove grit and water, either in a salad spinner or by hand. Place into a serving bowl and set aside.
Set a large, nonstick frying pan over medium-high heat. Add the remaining 1 tablespoon olive oil and heat until shimmering. Use a slotted spoon to lift the tofu out of the marinade and add to the pan in one layer; cook, undisturbed, until bottoms are golden brown, about 2 minutes. Stir the tofu and continue to cook for another 3 minutes, gently stirring every
minute or so, until golden brown on most sides.
Add the marinade and let boil down for about 1 minute. Pour the contents of the pan over the kale, toss gently to fully coat the leaves with the dressing, and garnish with peanuts and green onions. Let stand for a few minutes to slightly wilt the kale, toss once more, and serve warm.