by Caroline
As Tolstoy didn't write, easygoing eaters are all the same; every picky eater is picky in his or her own way.
So I was reminded the other night when I unpacked our CSA share and pulled out a bunch of escarole bigger than my head: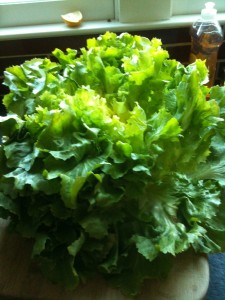 "Yum!" said Ben. "What's that?"
Can we just pause a moment to unpack those two short sentences? To marvel at the uncharacteristic enthusiasm — "Yum!" — which precedes the question? Because this cheerful reaction came from a child who generally approaches the world with a healthy dose of skepticism, and examines each bite he takes as carefully as the local health inspector. He will not tolerate butter or cheese (especially–shudder– if they are melted); frets if I put any kind of cooked dried bean (black, white, navy, garbanzo) on his plate; and rejects tomatoes in all their glorious forms (fresh, sauced, dried). On the other hand, he will eat whole wedges of lemon (rind and all), loves pickled burdock root, any manner of candied peel, and all cooked greens. The more sour and bitter, the better.
So I thought I had a good shot at getting him to eat escarole, especially when the sheet of recipes from our CSA included one for a warm salad of escarole, apples, raisins and toasted nuts. The original has cheese, which sounds delicious to me, but I didn't have any, and Ben wouldn't have eaten it that way, anyway. As it turned out, Ben liked it (though he found the escarole a bit chewy; I'll tear the leaves up smaller next time), and even Eli, who of course is his own brand of picky (he doesn't like any cooked vegetables), gave it long consideration rather than reject it automatically. So I'm calling this one a success.

Warm Escarole, Apple and Walnut Salad (adapted from a recipe by Jonathan Miller):
1/4 c raisins
1 apple, peeled and cut into wedges
1 head of escarole (my bunch was so big, I used less than half, which turned out to be one pound)
1 lemon
1/4 c chopped walnuts or pecans
2 oz gruyere
butter or olive oil
Cover the raisins with boiling water and let sit while you prepare the rest of the dish.
Zest the lemon and then squeeze out the juice. Keep them separate.
Wash the escarole and tear the leaves into bite-sized pieces.
Heat a large skillet with a couple tablespoons of butter or olive oil. Add the apples and a pinch of salt and cook, stirring occasionally, over medium-low heat until the apples have softened. Put in a large serving bowl with a splash of the lemon juice.
In the same skillet, toast the nuts until they're dark brown and fragrant. Remove from the pan and set aside (don't put them in with the apples just yet, or they'll get soggy).
Now add a bit more olive oil or butter to the pan, the lemon zest, the remaining lemon juice, the escarole and a splash of water; cover the pan and let the escarole cook. As soon as the water begins to steam, uncover the pan and continue to cook, stirring, until the escarole is just wilted. Transfer to the serving bowl with the apples. Drain the raisins and sprinkle both those and the toasted nuts on top. Use a vegetable peeler to shave the gruyere on top and serve.
Click here for other escarole recipes.