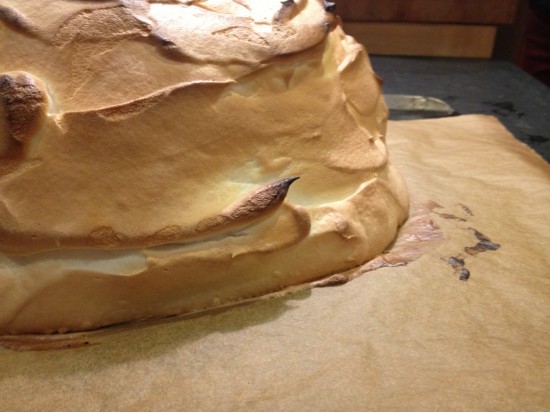 When I asked my mom for advice about making the dessert Ben requested for his birthday, she replied pointedly, "I made Baked Alaska. Once."

And maybe this will be the only time I make it, too, but I can't say I'm not up for the challenge. Last year, coming home from a conference the night before his birthday, I needed a quick dessert and I was grateful that he requested a relatively uncomplicated key lime pie. This year, despite how busy I am with work to launch Cassoulet, I am happy to carve out some time for birthday dessert discussions.
First, it's fun to learn the history of the dessert, which may have been served in Thomas Jefferson's White House and might also be of Chinese origin, but definitely got its name in 1876 from New York's Delmonico's restaurant, in honor of the new territory of Alaska.
Then, because Ben always has strong opinions about his birthday dessert, I peppered him with questions as we discussed the possible variations:
A bottom layer of brownie or cake? Cake.
Lemon cake or chocolate? Lemon.
Jam on the cake, or liqueur, or nothing? Jam.
What flavor ice cream? Raspberry.
Individual baked Alaskas or one big one? One big one.
Flaming or not? Not.
And so, we feasted on our enormous, non-flaming, raspberry-jam-spread, raspberry-chocolate-chip-ice-cream-topped lemon genoise cake crowned with merinque. Will I make it again? Maybe don't ask till next year…