by Caroline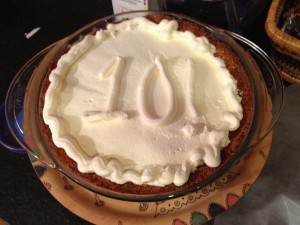 A couple weeks ago, Ben and I spotted some Key limes at the market and it occurred to me that he — a fan of all things citrus — might like Key lime pie for his birthday dessert. I have to admit I was also trying to manufacture a desire: I was going to be out of town at a conference the entire week before his birthday, and pie is a whole lot quicker to produce than a layer cake (like last year's lemon extravaganza).
It worked. We researched recipes. We talked about meringue topping vs. whipped cream, crumb crust vs. pastry. We decided to use this Epicurious recipe as our starting point, with this almond crumb crust. I got home from the airport the night before his birthday, finally read the recipe closely enough, after dinner, to notice it wanted to chill overnight, and had the cooled pie in the fridge well before my jetlagged self collapsed into bed at 10.
The only very slight problem with the dessert is that the whipped cream doesn't really support the sweet candle holders a friend made for Ben when he was a baby. They settled deeply into the cream while we sang, Ben blew out his candles, and then I fished them out before we all dug happily into our pie.