by Caroline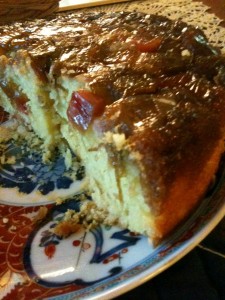 Whenever members of my family get together, we eat, and if we're going to be visiting each other for a few days, we count up the meals in advance and start planning what we'll cook and eat together (we have already, despite having more important things to do, begun emailing a little bit about Thanksgiving).
My Dad doesn't do too much cooking, but when we gather at my parents' home, he plays an important role in our food conversation by telling us what's coming from the garden or what he's got stocked in the freezer, also letting us know when some food is producing at oppressive levels (at the moment, ripening peaches cover every flat surface in the kitchen, the wood stove, and one spare bed) or whether we need to clear out last year's frozen whatever-vegetable to make room for this year's crop. It's kind of like walking into an episode of Iron Chef, the one-ingredient cooking challenge, except I get lots of ingredients, and no stop clock. It's great.
At my parents' last week, one of the products to use was rhubarb, and my Mom had already emailed me a recipe from the New York Times in anticipation of my visit. I am a big fan of upside-down cakes, as you might have noticed; I've posted recipes for ones with cherries and pears (with a terrible picture), though I think my favorite is still this apricot upside-down cake, which I picture here. They are usually pretty easy, always moist, and have that great caramelized sugar-crust edge. I have to admit, this one is a bit fussier than what I would make just for my own family, but for my Mom — who taught me how to bake — anything. And besides, it's completely delicious.
2 1/2 sticks unsalted butter, at room temperature, more to grease pans
1 1/2 pounds rhubarb, rinsed and sliced into 1/2-inch cubes (about 4 cups)
2 teaspoons cornstarch
1 1/2 cups granulated sugar 1/2 cup light brown sugar
2 cups cake flour
1 1/4 teaspoons baking powder
1/2 teaspoon fine sea salt
Zest of 1 lemon, grated
1 teaspoon vanilla extract
4 large eggs
1/3 cup sour cream
2 teaspoons lemon juice.
1. Heat oven to 325 degrees. Line the bottom of a 9-inch springform pan with parchment paper. Butter the paper and sides of the pan. Wrap two layers of foil under the pan, and place it on a buttered baking sheet.
2. In a medium bowl, mix rhubarb, cornstarch and 1/2 cup granulated sugar.
3. Mix the brown sugar and 1/2 stick butter in a pan over medium heat. Whisk until smooth and bubbling, about 2 minutes. Sift together the cake flour, baking powder and salt.
4. Whip 2 sticks butter in a mixer with a paddle attachment for 2 minutes. With your fingers, blend the remaining 1 cup sugar with lemon zest until the mixture is uniform in color. Cream together with the butter at medium-high speed until it is light and fluffy, about 4 minutes, stopping to scrape down the bowl halfway through. Add the vanilla and mix well. Add the eggs, one at a time, mixing well after each addition. Mix in the sour cream, then the lemon juice. (It's O.K. if the mixture looks curdled.) With the mixer set to low speed, add the flour mixture, 1/4 cup at a time, until well combined. Scrape down the mixer bowl in between the additions.
5. Pour the brown-sugar mixture into the cake pan, then spoon in the rhubarb and its juices. Spoon in the batter so it covers all of the rhubarb. Smooth out the top.
6. Bake for 1 hour and 15 minutes, or until the top of the cake is firm to touch and a toothpick stuck in the middle comes out without any large, moist crumbs.
7. Place the pan on a wire rack, and cool for 15 minutes. Run a knife around the cake, place a plate on top of the pan and turn it upside-down. Release the cake from the pan while still warm or else it will stick.
Yield: 8 servings.