by Caroline
It's been a couple years now since Lisa wrote about fresh cherries, plain and simple, and that's how I like them best, too. But this year, having signed up for an all-fruit CSA, we've been inundated with cherries, more than anybody wants to eat, so I've been exploring cake. It's not, I know, the traditional direction to go with cherries; why not clafouti, or a pie? Because I felt like cake.
So, here's where I started: cherry-cornmeal upside-down cake.
It gets off to a lovely, fragrant start with a caramel-balsamic syrup:


to which you then add the cherries:

At this point, though, I'd recommend switching from this recipe to this one, for an apricot upside-down cake which I have made several times (click here for a picture); the cake for the apricot recipe is less sweet, so I think a nicer contrast to the cherries, and much less fussy, since it doesn't require that you separate the eggs. Either way you go, though, you'll wind up with a delicious cake: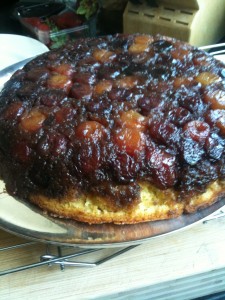 ingredients
3/4 cup (1 1/2 sticks) unsalted butter, room temperature, divided
1/4 cup (packed) dark brown sugar
2 teaspoons balsamic vinegar
3 cups whole pitted fresh Bing cherries or other dark sweet cherries (about 21 ounces whole, unpitted cherries)
1 1/4 cups all purpose flour
1/4 cup yellow cornmeal (preferably stone-ground medium grind)
2 teaspoons baking powder
1/4 teaspoon salt
1 cup sugar
2 large eggs, separated
3/4 teaspoon vanilla extract
1/2 cup whole milk
1/4 teaspoon cream of tartar
preparation
Position rack in center of oven; preheat to 350°F. Combine 1/4 cup butter with brown sugar and vinegar in 10- to 11-inch ovenproof skillet with 2-inch-high sides. Stir over medium heat until butter melts and sugar dissolves, about 2 minutes. Increase heat to high; add cherries and bring to boil. Remove from heat.
Whisk flour, cornmeal, baking powder, and salt in medium bowl to blend. Using electric mixer, beat 1/2 cup butter in large bowl. Add sugar; beat until pale and fluffy, about 3 minutes. Beat in egg yolks and vanilla. Add flour mixture alternately with milk in 2 additions each, beating just until blended and occasionally scraping down sides of bowl. Using clean dry beaters, beat egg whites in another medium bowl until foamy. Add cream of tartar and beat until whites are stiff but not dry. Using rubber spatula, fold 1/4 of whites into batter to lighten slightly. Fold in remaining whites in 3 additions (batter will be thick). Spoon batter over cherries in skillet, then spread evenly with offset spatula to cover cherries.
Bake cake until top is golden brown and tester inserted into center comes out clean, about 45 minutes. Cool in skillet on rack 5 minutes. Run spatula around edges of cake to loosen. Place large serving platter upside down atop skillet. Using pot holders or oven mitts, firmly hold platter and skillet together and invert. Leave skillet atop cake 5 minutes. Remove skillet. Stick back any wayward cherries. Let cake cool at least 45 minutes. Cut cake into wedges and serve slightly warm or at room temperature.
Cherry cake #2, or Cherry Brown Butter Bars, came via the always-fabulous blog, Smitten Kitchen (oh, look; she made the cherry cornmeal upside-down cake, too!). She had me at brown butter.

Cherry Brown Butter Bars
Adapted from Bon Appetit, via Smitten Kitchen
Crust:
7 tablespoons unsalted butter, melted
1/3 cup sugar
1/4 teaspoon vanilla extract
1 cup plus 1 tablespoon all purpose flour
Pinch of salt
Filling:
1/2 cup sugar
2 large eggs
Pinch of salt
1/4 cup all purpose flour
1 teaspoon vanilla extract
1/2 cup (1 stick) unsalted butter, diced
1 pound sweet cherries, which will yield 12 ounces of pitted cherries, (alternately, you can use 12 ounces of the berry of your choice)
Make crust: Preheat over to 375°F. Cut two 12-inch lengths of parchment paper and trim each to fit the 8-inch width of an 8×8-inch square baking pan. Press it into the bottom and sides of your pan in one direction, then use the second sheet to line the rest of the pan, perpendicular to the first sheet. Congratulations! You've just faked a square tart pan.
Melt the butter in a small saucepan, then add the sugar and vanilla and stir. Add flour and salt and stir until incorporated. Transfer dough to your prepared pan, and use your fingertips to press the dough evenly across the bottom of the pan. Bake the crust until golden, about 18 minutes (it will puff slightly while baking). Transfer crust to rack and cool in pan. Maintain oven temperature.
Make the filling: Cook butter in heavy small saucepan (a lighter-colored one will make it easier to see the color changing, which happens quickly) over medium heat until deep nutty brown (do not burn), stirring often and watching carefully, about six minutes. Immediately pour browned butter into glass measuring cup to cool slightly.
Whisk sugar, eggs, and salt in medium bowl to blend. Add flour and vanilla and whisk until smooth. Gradually whisk browned butter into sugar-egg mixture; whisk until well blended.
Arrange pitted cherries, or the berries of your choice, in bottom of cooled crust. Carefully pour browned butter mixture evenly over the fruit. Bake bars until filling is puffed and golden and tester inserted into center comes out clean, about 40 minutes. Cool bars completely in pan on rack.
Use the parchment paper overhang to carefully remove cooled bars from pan and place them on a cutting board and cut them into squares with a very sharp knife.
I'll make this again, and I'll vary it, too, by topping this easy pastry with lemon custard, or lemon custard + raspberries, or blueberries… the possibilities are nearly endless.