by Caroline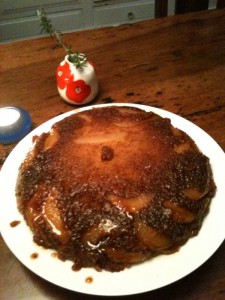 Another night, another cake! This one thanks to my mom, who is a regular clipping service, sending me links to New York Times articles I would otherwise miss and recipes with bigger yields than she and my dad can handle. It's quite a bit like the apricot upside-down cake I made several times this summer (click here for the recipe), and of course not too different from the apple cake Eli and I made together earlier this week.
We're doing a lot of baking together lately, my youngest son and I, and he's getting ever better at cracking eggs without letting any shell get into the batter, scraping down the sides of the bowl to incorporate every bit of butter, and whisking flour without it flying all over the kitchen. Cooking together is not just a way to share something I love with my child, not just an easy way for him to learn about ingredients, it's also art and science and math, and when the results taste this good, I'm happy to bake a cake every day.
The original recipe is here, but it's crazy sweet (syrup and sugar in the topping!), so I'm reducing the sugar in this version:
11 tablespoons butter, divided
3/4 cup maple syrup
3 to 4 pears, peeled, cored and thinly sliced
3/4 cup granulated sugar
1 teaspoon vanilla
2 large eggs
1 1/2 cups flour
1 1/2 teaspoons baking powder
1/4 teaspoon salt
1/2 cup milk
Preheat oven to 350 degrees.
Melt 3 tablespoons butter in a small pan over medium heat; add maple syrup and bring to a boil. Cook for 2 minutes; remove from heat and set aside. Let cool while you peel, core, and slice the pears, then pour it into a 9-inch pie dish and arrange pear slices on top.
Beat remaining 8 tablespoons butter and the sugar until light and fluffy. Add vanilla and eggs, one egg at a time, continuing to mix until smooth. In a separate bowl, combine flour, baking powder and salt.
Add flour mixture to butter mixture in three batches, alternating with milk; do not overmix. Carefully spread batter over pears–or, if you are 4, dump the batter onto the fruit, sending it flying up the sides of the pan. Try to get the batter evenly distributed over the pears as they slide around in their pool of syrup.
Bake until top of cake is golden brown and edges begin to pull away from sides of pan, about 45 to 50 minutes; a toothpick inserted into center should come out clean. Let cake cool for 5 minutes.
Run a knife around edge of pan; put a plate on top of cake and carefully flip it so plate is on bottom and pan is on top. Serve warm or at room temperature.