by Caroline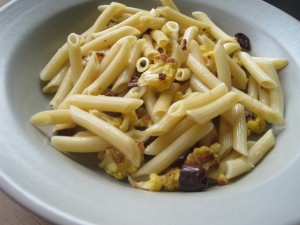 The deeper the Giants play into the post-season, the more excited my family gets. I stuck to my promise to make caramel corn for the pennant games, and this weekend (despite the approaching candy-bonanza of Halloween) I will make It's-Its to cheer on our World Series chances. But a family has to eat dinner, too, and we can't eat black bean and sweet potato enchiladas every day. When I found an orange cauliflower in our CSA share last week, it seemed like a sign, so although the cauliflower loses its orange tint when you roast it, I'm posting this recipe again; it's a great dinner, it's black and orange(ish), and it's easy to prep ahead of time and pull together, if you need to, between innings.
Pasta with Roasted Cauliflower
1 large head of cauliflower
1/3 c pitted olives, very coarsely chopped (or more, to taste)
2-3 tbsp capers (again, more or less depending on how salty you like things)
1 pound of pasta
olive oil
freshly ground black pepper, grated Parmesan cheese, and chopped parsley to taste; toasted bread crumbs would be a nice addition, too, if you happen to have them
Preheat the oven to 400 and put up a big pot of water to boil.
Break the cauliflower up into bite-sized florets (this is the most time-consuming part of the recipe). Toss the cauliflower onto a large baking pan, with the olives and capers, and drizzle a couple tablespoons of olive oil over the lot. Roast, stirring once or twice, for about 20 minutes, until the cauliflower is tender and starting to brown a bit around the edges. You can do this much ahead of time and then leave the cauliflower out until you're ready to cook the pasta. The cooled cauliflower will warm quickly if you toss it with the drained pasta in your still-hot pasta cooking pot.
Toward the end of the cauliflower-cooking time, boil the pasta. When it's done, drain, reserving a half cup or so of the pasta water. Toss the pasta back into the cooking pot with the roasted cauliflower, olives and capers. Add some of the pasta water if it seems too dry. Serve with lots of freshly ground black pepper, grated cheese, a sprinkling of parsley, and some bread crumbs.