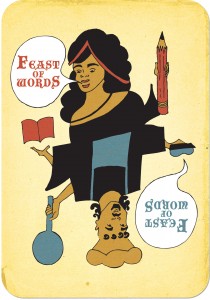 SOMArts Cultural Center presents Feast of Words: A Storytelling Potluck, a monthly event that is part social, part reading series, and part inspiration for writers and foodies alike. Co-hosted by Irina Zadov and Lex Leifheit, Feast of Words takes place on the first Tuesday of each month. Guests are invited to bring a potluck dish and/or a six-minute themed reading. Each month features short writing exercises, shared food and featured culinary and literary guests.
November's writing theme is "Home Away From Home" and features literary and culinary guests Andrew Lam, co-founder of New America Media and author of the novel East Eats West: Writing in Two Hemispheres, and chef Blair Warsham, of graffEats Guerilla Dining.
Feast of Words starts at 7:00pm on Tuesday, November 2. Admission is $10 or free with a potluck dish, tickets are available online. Open mic signup is limited to six spots, six minutes each and begins at 6:30pm. Writers should choose a work that fits in with the theme.
Where: SOMArts Cultural Center
(934 Brannan St, between 8th and 9th, San Francisco)
When: 7:00pm to 9:00pm, doors open at 6:30pm
What else: $10, free admission with potluck dish.
For more information visit Feast of Words website or write feastofwords@somarts.org