It may be almost Halloween, but we have other important things to think about these days, too.
This very quick game night meal was inspired by Caroline's Giant Enchildas and these pumpkin tacos from Sunset Magazine–which sound terrific to me, but I just didn't have all the ingredients in my pantry.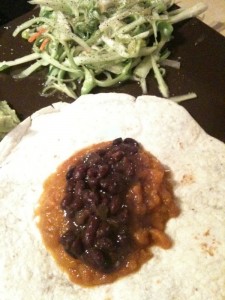 For this very seasonal meal–pick your team or your holiday, or both–you need:
1 can pumpkin1 orange
1 1/2 teaspoons cumin
1/2 teaspoon cayenne
salt
1 can black beans, cuban style or homemade Cuban black beans
Shredded Monterey Jack cheese
Taco shells or soft tortillas
Heat pumpkin, juice of 1 orange, cumin, cayenne, and a pinch of salt.
Heat black beans.
Top warm tortillas or soft taco shells with a generous spoon of pumpkin, sprinkle with shredded cheese, and top with a tablespoon or so of beans.
Serve with a side of your favorite slaw or salad.
Eat, pray, dream