by Caroline
We were watching the Giants/Braves playoff game Sunday afternoon with nothing to munch on but little bowls of peanuts (it was almost time for dinner; I've been sick for two days) when the boys started dreaming of how our snacks might improve as our team plays deeper into the postseason. "Crackerjack!" one shouted. "Yeah, homemade crackerjack!" "Sure," I promised, "I'll make homemade crackerjack if we're playing for the pennant." "And It's-Its?" Eli asked, "It's-Its for the World Series?" "Yes, I assured him, "It's-Its for the World Series."
We are a long way from the World Series still, and the last time the Giants got that far Ben looked like this: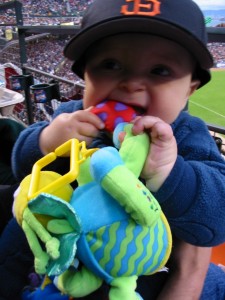 But Sunday's game went well, and as we turned off the TV and turned our attention to dinner, I looked around the kitchen to see what I could make to celebrate. There was a sheet of puff pastry in the fridge; I'd gotten it out of the freezer a couple days ago to make some savory apple, beet and cheddar cheese tarts, but then I came down with a stomach bug. While I was in bed, the beets got turned into soup and the cheese and apples got eaten, but the puff pastry was still ready for use. We had a bowl of ripe pluots on the table (probably the last of the season), plus an orange, so I turned the oven on to preheat while I improvised dessert.
I chopped up the pluots, sprinkled them with brown sugar and cinnamon, then zested the orange into the mixture. I rolled the puff pastry out and cut it into six pieces, spooned my filling into the center of each one, and crimped them shut with a fork. I didn't have an egg for the egg wash (a couple days out of commission and our supplies start to run seriously low), but a little milk and a sprinkle of cinnamon and sugar worked just fine. By the time I was finished assembling the turnovers, the oven was hot and I slid the pan into bake. I tossed the remaining fruit filling into a saucepan to cook down into a chunky sauce. Half an hour later, our pluot turnovers were ready.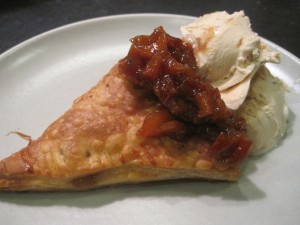 You won't find these at any ballpark, but I didn't hear any complaints on that score. We'll plan a bit better for the games to come, and I'll post recipes for some baseball-friendly snacks. In the meantime, this dessert served as a good reminder that it doesn't take much advance thought or planning to come up with a nice finish to your meal. Obviously, we don't all have thawed puff pastry ready to go at a moment's notice — it was a first for me — but I could have just as easily (and quickly) made a fruit crisp; all you ever really need, as we find ourselves saying again and again, are a well-stocked pantry and some fresh produce. I'm looking forward to the next game already.