by Caroline

Today after school we will finally carve all the pumpkins that have been sitting on our front stoop this month. I'll save the seeds, to toast and eat during a post-dinner showing of It's The Great Pumpkin, Charlie Brown, and then I'll need a quick dinner that doesn't add much to the general pumpkiny mess. I'm thinking pumpkin pancakes. Breakfast for dinner is a fine quick and healthy meal, and like Lisa's recent omelette, pancakes are a fine food with which your children can practice their cutlery skills.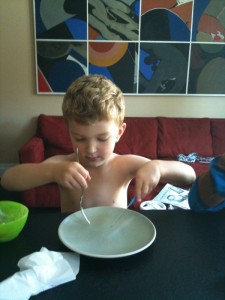 These pancakes are about the lightest, fluffiest pancakes you'll ever make (these pictures really don't do them justice at all), so make them silver dollar size so they bake all the way through.
They taste great served with applesauce, yogurt, ricotta cheese, or of course maple syrup.
1 c flour
3 T sugar
1 t baking powder
1/2 t baking soda
1/4 t salt
1 t cinnamon
1/4 t nutmeg
1 egg
1 c plain yogurt
1/4 c pumpkin puree (canned or fresh)
2 T butter, melted and cooled
In a large bowl, beat the egg and then stir in remaining wet ingredients. Blend well. Whisk the dry ingredients together in a separate bowl, then stir into the egg mixture until just combined.
Heat a skillet and add a dab of butter. When the skillet's hot, pour about 1/8 c batter per pancake. Flip when the tops bubble and the edges seem dry. Cook until the other side is golden brown, 2-3 minutes per side.