by Lisa
Looking for a fast, economical, and really delicious fish dinner? One that's appropriate for a school night, guests, or a weekend brunch?
The answer is Salmon Backs.
Pietro introduced me to them, and they're basically a "throw away" part of the fish, and they do look like scraps and bones.  But they cook up fast and truly do taste better than any other part.  At about $4.95/lb.,  even now, they're terrifically economical for a family.  We've been eating them for a few salmon seasons now, and with the closing down of the California salmon fishing, and the rising price of salmon, they've been the only way we've been able to afford to keep salmon a regular part of our diet.  Of course, they're not locally sourced–Pietro gets them from a friend in Alaska, but buying from him does support him & his boat, and we regularly buy locally caught fish as well.
If you don't have a Pietro but do have a good local fish monger, ask if s/he can get some for you.
To prepare:
Sprinkle the backs with salt on both sides. Pepper if you like.
Squeeze a little lemon, drizzle a little olive oil and white wine or sake if you like.
Grill on high heat for about 2 minutes on each side. Alternatively, you can roast/bake at 450 degrees for 5 minutes.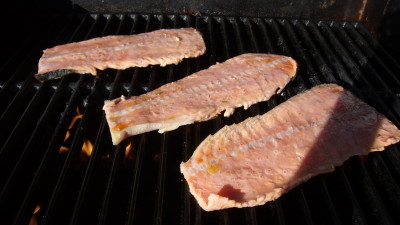 Let the salmon cool a little, then with a fork, flake the meat off the bones.  This bit takes a little time, but it's not hard, and the fish flakes easily.  Be slightly careful of bones. They're large and easy to see, but if you're feeding kids I like to be extra careful.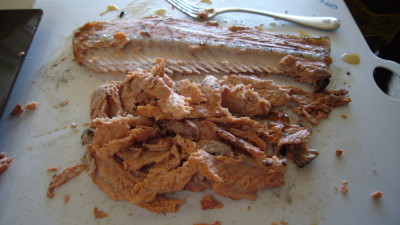 You can serve any number of ways.  I like to pile it on a plate with lemon wedges, sprinkled with tarragon or dill.  You can mix it in salads or use it to top bagles.  Good sides are a fresh Italian or French bread, white beans with olive oil, garlic, and salt, quick gazpacho, a green salad.
If you have any leftover, or are feeling ambitious, it's also great  in salmon cakes, which you can make by binding the salmon with egg, bread crumbs, and adding whatever other seasonings you like: parsley, tarragon, a little minced and sauteed onion, green or red peppers, etc. Use your imagination and whatever is in your pantry.  Lightly flour the cakes and pan fry them in butter &/or olive oil.
Salmon backs are easily one of my kids' favorite dinners, so I trust that all 5 of you  who read this blog won't buy them all up before I get to market on Sunday.