by Caroline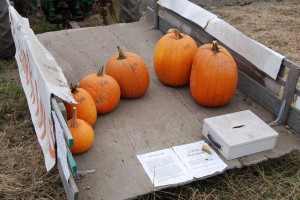 It happens every year, the clamor for pumpkin treats: pie, cupcakes, pancakes, muffins. Eli, particularly, adores all things pumpkin and thinks it's quite reasonable to expect a pumpkin pie for dessert an hour after we return from the pumpkin patch. Well, maybe so, but not with the new pumpkins, certainly. In fact, you all probably know this already but it bears repeating: you don't want a Jack-o-lantern pumpkin for pie and really, you don't even need pumpkin (shh!). Roast an acorn squash with a cinnamon stick and some cloves, even a knob of fresh ginger, stuck in the cavity, take out the flavorings when the squash is tender, scoop it out of the skin, puree, and then proceed with your recipe as if it were pumpkin. Really, nobody will ever know the difference.
But still, we go to the pumpkin patch every year, because what's October without pumpkins? And when we are home from the pumpkin patch, one of our favorite quick pumpkin recipes is for muffins.
Preheat the oven to 350.
Combine in a medium sized mixing bowl:
1 1/2 c all-purpose flour
3 T ground flax seed meal (you can skip the flax and replace it with an extra tablespoon of butter if you like)
1 1/2 t ground cinnamon
1 t baking soda
1 t salt
1 t ground ginger
1/2 t ground nutmeg
1/4 t ground cloves
1/4 t baking powder
Combine in a small bowl or measuring cup:
1/3 c water, milk or apple juice
1/2 t vanilla
In a large bowl, beat until creamy
5T unsalted butter
add
1 c brown sugar
1/3 c granulated sugar
and beat until combined.
Then add
2 large eggs
1 c pumpkin puree
And mix well. Now add the flour mixture to the pumpkin mixture in three parts, alternating with the milk mixture. Stir just until combined. Then add, if you like, chopped walnuts, raisins, or chocolate chips (about 1/2 c each).
Bake in a muffin tin for 30 minutes, or until a tester comes out clean.