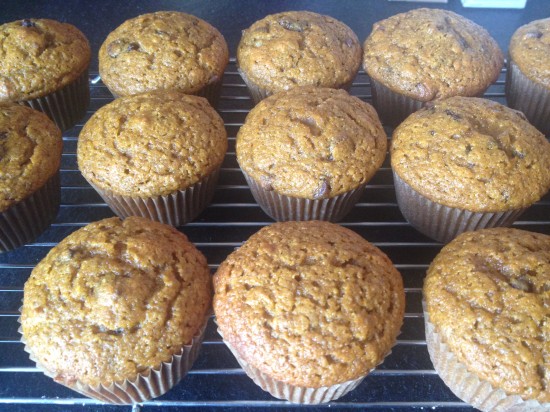 It's early enough in the season that I am still delighted by All Things Pumpkin: pancakes, salads, stews, curries and of course muffins. This year, I'm updating (and enlarging) last year's pumpkin recipe. Swapping last year's sugar coating for this year's chocolate chips isn't what makes these healthier, of course, but the reduced sugar, the whole wheat flour, and ground flaxseed do the trick and the muffins are still super moist and delicious.

Pumpkin Chocolate Muffins
This recipe makes a dozen muffins plus one loaf.
3/4 cup vegetable oil
1 2/3 cup sugar (I used a combination of brown and granulated)
4 large eggs
2 cups pumpkin puree
2/3 cup water
1 teaspoon vanilla extract
2 1/3 cups unbleached all-purpose flour
1 cup whole wheat flour
1/4 cup ground flaxseed
1/2 teaspoon baking powder
2 teaspoons baking soda
1 1/2 teaspoons salt
1 teaspoon cinnamon
1 1/2 cups chocolate chips
Preheat the oven to 350. Prepare a 12-cup muffin tin (either grease or line it with muffin liners) and an 8″ loaf pan.
In a large bowl, whisk together the sugar and eggs. Add the pumpkin puree, water, and vanilla and blend well.
In a separate bowl, whisk together the remaining ingredients. Pour the dry ingredients into the pumpkin mixture and stir until just combined.
Dollop batter into muffin cups (fill 2/3 full) and scrape remaining batter into the loaf pan.
Bake muffins for 20-25 minutes, and the bread for 30-40, until a tester comes out clean.