by Caroline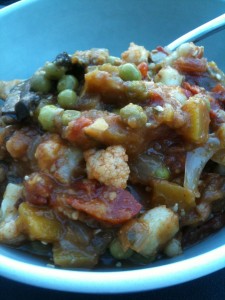 This is absolutely not a recipe I would make just for my family, since my kids are at the stage when stews and other cooked food mixtures don't appeal to them at all (although they will happily eat their own weird combinations of food, if they make them themselves). But, this recipe arrived with our CSA box days before a weekend away with a couple other families, and as I do when my parents come to visit, I figured I could use the four other adults as guinea pigs. I loved the idea of adding the ground almonds and sesame seeds (the result is not gritty at all); I loved that it used most of the week's CSA vegetables in one colorful dish; I loved the surprising addition of hominy. I served it with the biscuits from the pear cobbler recipe I posted recently (leaving the sugar out of the biscuits) and it was a huge hit. It's a delicious, hearty, chili-like stew that I'm looking forward to making again the next time I'm cooking for grownups.
Butternut Squash & Hominy Stew
2 onions, chopped
olive or vegetable oil
2 garlic cloves, chopped
2 teaspoons ground cumin
2 teaspoons dry oregano
4 tablespoons mild ground chili
1 small butternut squash, peeled and diced
8 ounces mushrooms, quartered
1 cauliflower, cut into florets
1 can hominy, drained and rinsed
2 pounds tomatoes, chopped or crushed
a handful of almonds
3 tablespoons sesame seeds
1 cup frozen peas (or a 10 ounce bag)
4 tablespoons chopped cilantro
heat some oil in a large pot and saute the onions for 6-7 minutes. Add the garlic, cumin, oregano, the chili powder and continue cooking another minute or so. Add the squash, mushrooms, and 3 cups of water. Bring to a boil and then lower the heat, cover and simmer slowly until the squash is tender, about 20 minutes.
Grind the almonds and sesame seeds in a food processor until finely chopped. Add them to the stew with the cauliflower, tomatoes, and hominy and cook until the cauliflower is tender and the tomatoes have broken down. Add the peas and cilantro and cook through. Taste and adjust seasonings (salt, pepper, chili). Serve with a dollop of sour cream or yogurt and more cilantro.