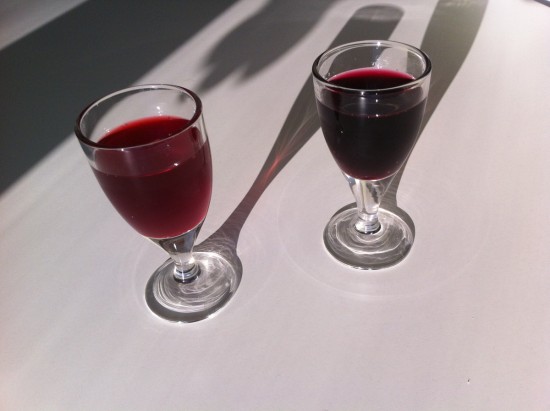 Ripe, jewel-toned berries. Vinegar. Sugar. A little heat.
The end of summer. The beginning of fall. That in-between time when old things come back around and new things appear on the horizon, when you don't want to let go but you really do want to move forward.
The familiar cycling into September, the unfamiliarity of new expectations. Same school, new classroom.  Same kids, bigger bodies. They're taller, more composed. Their faces are thinner, their expressions more canny. They walk with their hands slid confidently into their pockets and sling their arms possessively around the best friend. You want to keep them forever, you want to let them grow. They're perfect, they're never going to stay that way.
Sometimes, the changes seem more acute. This is one of these times.
This is the time for shrubs. Raspberry, blueberry, whatever berry you can get your hands on.
Shrubs are fruit vinegars, and they've been around forever. They're a simple way to preserve the bright flavors of summer, or to use berries that your kids refuse to eat because they've gone a little soft, or been bruised and you cannot handle one. more. smoothie.
You don't actually drink them straight, though they look so pretty in the glasses that I sometimes sip them like limoncello.   But I'm a little weird about vinegar. Shrubs are tart, sweet, and obsessively drinkable. The first time I gave one to Finn, mixed with club soda, he slurped and slurped and slurped, then said, between slurps, "I don't really like it, but it's addicting. I can't stop drinking it."
You can mix them with bubbly water, or flat water and crushed ice, or prosecco, or concoct a gin drink, or add them to any other cocktail that's calling your name. They make fine, surprising desserts: both kids came around after we drizzled raspberry shrub on vanilla ice cream.  You could drizzle them over pound cake, or short cakes, or angel food, or cupcakes., or lemon merengue pie. You can use as much or as little as you like. Google it and get inspired.
Imagine these impossibly bright-hued elixirs as bottled summer. Your kitchen will fill with the bright smell of berries. The bottles will shimmer on your counter. The kids will go to school. The kids will come home. Same as ever. Just a little different.
Berry Shrub
There are lots of recipes for shrubs around, but I'm not fussy. So far, the process has been fairly foolproof. The basics:
In a glass jar with a lid, cover the fruit with vinegar, about a 1/2 inch more vinegar than fruit. I used red wine vinegar for raspberries and a mix of white wine vinegars for the blueberries (rice, white balsamic, pinot grigio–simply because I was at the end of the bottles). Cover and let sit for about 3 days.
Strain to remove solids, then mash the fruit through a fine sieve.  You will have pulp remaining. Discard or compost it.
In a heavy bottomed pot, add a scant 1 cup of sugar for every cup of liquid. (But experiment. If your berries are tart, add a little more sugar.) Bring the liquid to a boil and then lower the heat and simmer for 3 minutes. Let cool. Bottle. Drink.