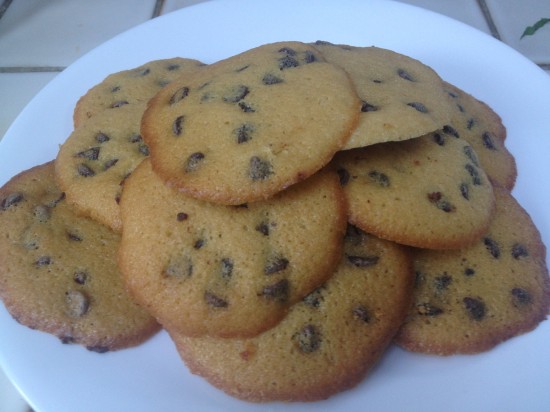 "Mama," he said quietly, sneaking up behind me, "I want to make a recipe."
I looked around the kitchen. My dad was messily stirring together a batch of carrot muffins, while Tony was assembling a marinade for the mushrooms we were taking to a barbecue later that day. I had an apricot-upside down cake in the oven and two lined strainers — one of ricotta cheese, one of vanilla ice cream — dripping into bowls. I pictured pouring the whey into the ice cream machine, the unhappy grimaces at sour ice cream, and made a mental note to try not to confuse them.

"Sure, Eli," I surrendered. "Get out a bowl."
Later that night at the barbecue, the kids raved about their friend's cookies.
"Dude!" said the twelve-year-old, stroking a cookie lightly over his cheek. "These cookies are SO soft! Seriously."
And the six-year-old, who wouldn't eat the chocolate-peanut butter cookies out of loyalty to her peanut-allergic papa, took one floppy cookie in each hand and crowed between bites, "They're like pancakes! Cookie-pancakes!"
Eli's Milky Chocolate Chip Cookies
This is a very runny batter, and comes together most easily if the butter is quite soft and the milk and eggs already at room temperature when you begin. You'll refrigerate the batter before baking, so don't preheat the oven until the batter is finished and chilling.
Mix together in a medium mixing bowl:
2 cups all purpose flour
1/2 cup brown sugar
1 cup white sugar
1 teaspoon baking soda
1 teaspoon salt
1/4 teaspoon baking powder
In a separate, larger, bowl, combine:
1 cup milk
1/2 tablespoon vanilla
2 sticks (1 cup) soft butter
2 eggs
Beat the flour mixture into the milk mixture until well combined. Chill for 20-30 minutes. While batter is chilling, preheat the oven to 375.
Scoop tablespoon-fulls of batter onto parchment-lined baking sheets, leaving plenty of space between dollops of batter. Bake for 8-10 minutes, until the cookies are golden brown and darker around the edges. Let cool a moment on the sheets before removing to cooling racks.