by Caroline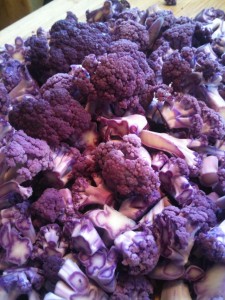 So, remember last week, I wrote about single words that can draw you into a recipe? Well, compote is definitely not one of those words for me. It just sounds like a food dump; I guess it sounds a bit too much like compost.
But the combination of ingredients in this recipe from our CSA caught my eye here. It's not a novel mixture for us — we roast cauliflower with olives all the time — but it's a familiar mixture cooked in a new (and faster) way.
I showed the recipe to Ben, expecting he might like it, and I was surprised at his reaction. "Compote! I LOVE compote! Do we have any fruit? Can we make a fruit compote?" And then he spun off, looking at the pears and apples, reminiscing about the spring's strawberry-rhubarb compote, before coming back to me and my giant head of cauliflower. "Oh, sure. That'd be good."
With that endorsement, I got cooking, and this is a lovely new way to do cauliflower.
I'm giving you the ingredient amounts as they were listed in the recipe, but of course one of the benefits of compote is that you can adapt according to your taste (and your supplies):
1 large head of cauliflower, chopped into small florets (I obviously had purple, but any kind will do)
1 large shallot or a couple cloves of garlic, thinly sliced
1/4 c olive oil
12 kalamata olives, roughly chopped
3-4 wide strips of lemon peel, minced
1/4 c chopped parsley
1/3 – 1/2 c chopped tomatoes (I left these out at first — my kids don't like tomatoes — but added them to my leftovers the next day, and they tasted great)
1/4 c toasted pine nuts
In a large skillet over medium-high heat, heat the olive oil, then add the cauliflower and shallot or garlic. Saute briskly with some salt for 2-3 minutes, then lower the heat and cover the skillet. Sweat for about 5 minutes, or until the cauliflower is tender.
Raise the heat and add the olives, lemon peel, parsley and tomato (if using). Saute just until everything is heated through and the dish smells fragrant. Finish with some pepper, sprinkle with the pine nuts and serve warm, as a side dish or over pasta.