by Caroline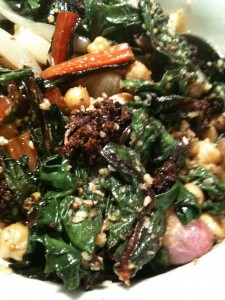 Chard and cauliflower are two of my family's favorite winter vegetables, but I'd never thought to combine them in one dish, nor to add chickpeas to make it a really hearty vegetarian dish (this would be a great way to keep your favorite vegetarians and vegans happy at Thanksgiving). Plus the dukkah is my son, Ben's, new favorite thing: he is dipping carrots and cucumber sticks into it, sprinkling it on noodles, and eating it by the spoonful when he can. I can't blame him — it's a fabulous discovery for us.
Ingredients
1 large cauliflower (2 3/4 lbs.), cored and cut into florets about 1 1/2 in. wide
3/4 pound whole shallots, peeled and cut in half if large
5 tablespoons extra-virgin olive oil, divided
About 3/4 tsp. kosher salt
1/2 pound Swiss chard, stems and ribs sliced and leaves chopped separately
1 can (15 oz.) chickpeas, rinsed and drained
About 1/2 cup Dukkah (recipe below)
Preparation
1. Preheat oven to 425°. In a roasting pan, toss cauliflower and shallots with 3 tbsp. oil and 3/4 tsp. salt. Roast, stirring occasionally, until light golden, about 20 minutes. Add chard stems and ribs, toss to coat, and roast until vegetables are very tender, 7 to 10 minutes more.
2. Stir in chard leaves, chickpeas, dukkah, and remaining 2 tbsp. oil. Roast until chard is wilted and tender, about 8 minutes. Stir; season to taste with more salt and dukkah.
Dukkah
1 1/2 tablespoons coriander seeds
1 1/2 teaspoons cumin seeds
1/2 teaspoon kosher salt
1/2 teaspoon pepper
1/4 teaspoon dried thyme leaves
1/4 cup roasted hazelnuts
1/4 cup toasted sesame seeds
Preparation
1. Toast coriander seeds and cumin seeds in a small frying pan over medium-low heat until a shade darker, 5 to 7 minutes; let cool.
2. Whirl spices, salt, pepper, and thyme in a food processor until fairly finely ground.
3. Add hazelnuts and sesame seeds and pulse until coarsely ground.