Just like that, it's fall. We have dark nights and cold mornings and no one is thinking twice about summer, the only relic of which are  few jars of super sweet, oven roasted cherry tomotoes from the garden.  With roasted garlic, they taste like fall.  Now we are feasting on pumpkins and snacking on persimmons and pomegranites.  And we're starting our pumpkin collection, most of it purchased from Baia Nicchia Farm. Many of these will last for months.  Eventually they will all be cooked.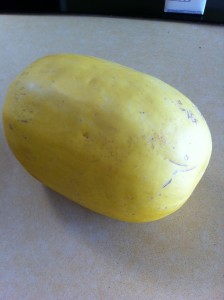 The humble spaghetti squash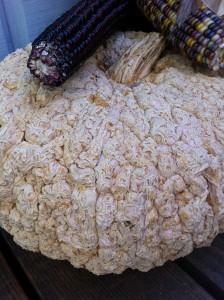 The one I am saving for pie. Warts=sugar.
Some for carving; some for soup.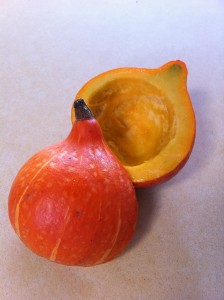 Potimarron. For the rissoto.
First pumpkin risotto of the season; made with lager & garnished with fried sage and sausage.
The recipe for Pumpkin Risotto is here. This time, I added crunchy, fragrant, fried sage leaves. To make them, take 15-20 (or more) fresh sage leaves. Dust off any dirt. Fry until just crisp in a few tablespoons of olive oil. Reserve the oil and drain the leaves on paper towels. Use the oil to drizzle on the risotto and serve the leaves as garnish.