by Caroline
Last week's CSA fruit share brought us pounds and pounds of Seckel pears, beautiful brown pears ranging in size from a large cherry to a more traditional fist of pear. I've never cooked with Seckel pears before and I found lots of recipes that feature them peeled, cored, poached and then crowning a tart, their stems poking up: gorgeous, but way too much effort for me right now.
I considered pear bread, but with my parents in town, I wanted to make something new. So, I poked around some more and eventually found this terrific cobbler recipe, which uses dried blueberries and cornmeal biscuits. A winner! The biscuits are so good, this recipe's worth saving just for them, but the combination of crunchy cornmeal biscuit, sweet pear and tart dried blueberry is really fabulous.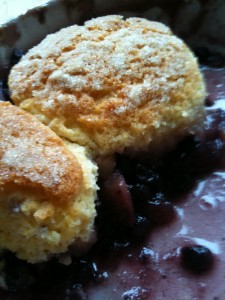 For the biscuits:
1 cup all purpose flour
2/3 cup stone-ground cornmeal (medium grind)
1/4 cup plus 3 tablespoons sugar, divided
2 teaspoons baking powder
1/2 teaspoon coarse kosher salt
6 tablespoons (3/4 stick) chilled unsalted butter, cut into 1/2-inch cubes, plus 3 tablespoons unsalted butter, melted
2/3 cup chilled heavy whipping cream
Pear filling:
6 pounds firm but ripe Seckel pears, Taylor Gold pears, or Bosc pears, peeled, cored, cut into 1/2- to 3/4-inch pieces (about 12 cups)
1 cup apple juice
1/4 cup fresh lemon juice
3 tablespoons cornstarch
1 teaspoon (scant) coarse kosher salt
1/2 teaspoon freshly grated nutmeg
2 tablespoons (1/4 stick) chilled unsalted butter, diced
1 1/2 cups dried wild blueberries (9 ounces)
Vanilla ice cream
For biscuits:
Whisk flour, cornmeal, 1/4 cup sugar, baking powder, and 1/2 teaspoon coarse salt in large bowl. Add chilled butter; rub in with fingertips until mixture resembles coarse meal. Add cream; stir just until moistened. Gather dough together; form into 8-inch-long log. Cut log crosswise into eight 1-inch-thick rounds. Spread 3 tablespoons sugar on plate. Dip 1 cut side of each biscuit into melted butter, then dip buttered side in sugar. Place biscuits, sugared side up, on platter; sprinkle any remaining sugar over top. Cover and chill.
For pear filling:
Preheat oven to 375°F. Butter 13x9x2-inch glass baking dish. Place pears in large bowl. Add next 5 ingredients; toss. Let stand 10 minutes, tossing occasionally.
Transfer pear filling to prepared dish. Dot with diced butter. Cover dish with foil. Bake until pears are almost tender, about 50 minutes. Remove dish from oven; stir dried blueberries into pear filling. Place biscuits atop filling. Continue to bake uncovered until filling is bubbling thickly, biscuits are pale golden, and tester inserted into biscuits comes out clean, about 35 minutes longer (biscuits may look cracked). Cool 30 minutes. Serve warm with ice cream.