Most summers we go a little nuts for ice cream. I have two ice creams makers (traditional and soft serve) and it's not been unheard of for me to whip up a batch of ice cream at least once a week.  Caroline makes more than her share of  ice cream in the summer, too.
But this year, we were gone most of the summer. We did come back with some great food memories and at least one amazing recipe, but we didn't do a whole lot of summer cooking. In fact, I missed the farmers market this summer more times than I've missed it in the past ten years combined.   Thankfully, it's warmer than ever here (which is usually the case every September where we live) and summer produce is still at its height. This has meant a lot of grilling, a lot of tomatoes, a lot of dinners outside, and, finally, finally, ice cream.
This recipe is my new addiction, and one of the best ice creams I've ever made. Come spring, we can't get enough panna cotta, and this recipe is its high summer equivalent. I came to it because I had some leftover buttermilk and a lot of strawberries.   Technically, of course, panna cotta is not a flavor, but a method of cooking (it means "cooked cream"). But this ice cream is the cold, summer version of our our favorite buttermilk panna  cotta, and you do cook the cream, so panna cotta ice cream it will remain.  But it doesn't matter what you call it as long as you make it.  This is a nearly perfect ice cream: not too sweet, perfectly creamy, and it won't completely exhaust your egg supply.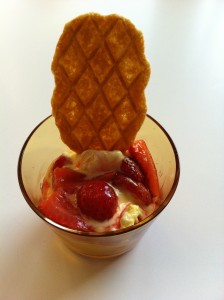 Panna Cotta Ice Cream with Warm Strawberry Sauce
For the ice cream (makes 1 quart)
1 cup whipping cream
6 large egg yolks
1/2 cup bakers sugar*
1 cup cold buttermilk
For the strawberry sauce (serve 4)
1/2 pint fresh strawberries
1-2 tablespoons water
1 heaping tablespoon bakers sugar
Whisk the egg yolks in a bowl until well blended.
In a saucepan, gently heat the cream and sugar, whisking until the sugar is just dissolved.
Transfer half of the cream to the egg yolks and whisk to lighten yolks and blend.
Pour yolks and cream back into the saucepan and heat, stirring gently, until the mixture is thick enough to coat the back of the spoon.
Strain into a large bowl. Add the butter milk and stir to blend well.
Chill the buttermilk cream mixture several hours–or preferably overnight.
Freeze in your ice cream maker according to manufacturers directions.
Just before serving make the Strawberry Sauce:
Hull and quarter the strawberries.
In a small saucepan, combine strawberries, water, and sugar.
Heat gently until a thin glaze develops and strawberries are slightly soft.
Remove from heat, let cool slightly, and serve warm over ice cream.
*Note: I've taken to using bakers sugar for my ice cream, which is a very fine grain sugar. It measures the same as regular sugar, but it dissolves much more easily. For ice cream, this means you need less heat, and therefore have less chance of scrambling the eggs.