How do you choose a restaurant in a strange town?
Sometimes we've relied on suggestions from friends who have come before. Sometimes we have a destination restaurant we've read about in a paper or magazine. Sometimes we just wing it, selecting a restaurant based on location, menu, and my gut. But we've also come to rely increasingly on Yelp as one of our tools. I trust my friends who Yelp. The "nearby" feature is helpful when you need food fast or want to walk.  And we've found that if we choose a meal based on our gut, our research, and Yelp comments we generally have a hit.  I especially have grown to trust a string of comments praising a particular dish. Things like: "don't miss the shaking beef" or make sure you try the "li hing mui margarita."  And if you know a little about local food traditions, you generally know things like burger shacks are a good bet on Kauai; and Mexican is a go-to in San Diego. So, when we travel, we tend to opt for places that have a strong sense of place, are linked to the community, or are known to do something really well. For instance, I'm inclined to avoid Italian unless it's a place like this that cures there own salumis.
But in Southern California, my husband's birthplace, we are all about the fish tacos, which I have to admit after all these years, are just better down south than anywhere else on earth. And so based on Yelp and some strategic scouting by me and the kids, we found ourselves at Miguel's Cocina on Coronado, just a stone's throw from our hotel.   It's a spacious place, and generally mobbed. But it's tucked in an alley off the street, and you can put in your name, take a buzzer, then grab an outstanding margarita from the outdoor bar, and snack on a bottomless bin of chips and salsa on the benches. It's sort of lovely.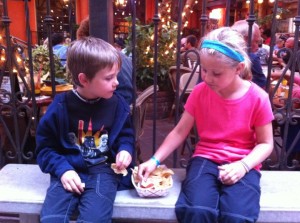 The food is pretty great all around, but what you need to know about Miguel's is the Jalapeno Cream Sauce. This is the hands down our favorite food thing from vacation. It comes to the table complimentary with your chips and salsa. It 's a warm, creamy dipping sauce with a hint of heat. The kids didn't touch it while Kory and I ate and ate and stared at each other in disbelief. Then, when they finally did try it they both said the same thing: "That is the best. thing. ever." And it is. Trust me. It's the ultimate comfort food. The best appetizer for family dinner, and I'm pretty sure will be a huge smash at parties. This is the kind of thing that made all those restaurant meals worth it.  The recipe is crazy. But just make it and believe.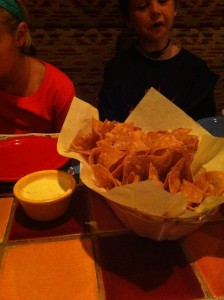 M
iguel's Cocina Jalapeno Cream Sauce
2 cups whipping cream
1 cup sour cream
1 teaspoon chicken broth
2 tablespoons clarified butter
1 tablespoon flour
1 jalapeno pepper, minced
1 tablespoon jalapeno juice, from bottled jalapeno
1 ounce monterey jack cheese, shredded
1 ounce cheddar cheese, shredded
Heat whipping cream in a heavy saucepan over high heat. Stir in sour cream when it's ready to boil. After sour cream dissolves, reduce heat to medium.
Stir in chicken broth and jalapeno sauce and simmer.
Meanwhile, make a roux by heating butter and flour. Whisk until mixture turns a pale gold.
Increase heat on cream mixture until almost boiling and then add roux. Whisk briskly and constantly until roux is incorporated. Continue whisking until sauce has thickened. It should be about the consistency of a cheese sauce. It will take a longish time.
Remove from heat, stir in minced jalapeno and the cheeses.
Serve with (warm) chips.Try them with a classic margarita, made simply with your best tequila, fresh lime juice & agave nectar.