by Lisa
We're having a mini-love affair with all things Cuban in our home, which began with Picadillo and may have reached its peak when I read Pete Wells' piece about scorching but not ruining a batch of black beans.
These beans take some time, but they are surprisingly easy  to make and they are completely, fantastically delicious.  Delicious as in you could eat them for your last meal delicious and never regret a thing. They're great with rice, or a little picadillo, or fresh tortillas and a side of your favorite slaw.  In the spontaneous spirit of Wells' piece, I've found they're still terrific if you leave out the ham hock (but better with it in), and certainly you can adjust the heat of the jalapeno for your family.  Certainly, vegetarians can find a work-around for the meat.  They're great for a family dinner, they're great leftover, and they're really great for company.  However you subtly adapt these for your kitchen, just try these. I promise you:  The husband loves them. The kids adore them.  They're a revelation all around.
We ate them first on a warm spring night, for a really casual al fresco dinner on the lovely bench the husband built. Finn set the bench.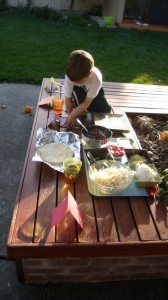 Ella personalized the place cards.
Here's the recipe as it originally appeared in the New York Times:
Cuban Black Beans
11/2 green peppers, stemmed and seeded
10 garlic cloves
1 pound dried black beans, rinsed and picked over to remove any stones
1 smoked ham hock
2 bay leaves
5 teaspoons salt, or to taste
1/4 cup olive oil
4 slices thick bacon, cut into 1/2-inch pieces
1 Spanish onion, diced
1 jalapeño, stemmed and finely chopped
1 teaspoon dried oregano
1/2 teaspoon ground cumin
1/2 teaspoon freshly ground
black pepper
3 tablespoons distilled white vinegar
1 tablespoon turbinado or other brown sugar.
1. Cut 1 green pepper into 1-inch squares. Smash and peel 4 of the garlic cloves. Put the green pepper and garlic into a large pot with the beans, ham hock, bay leaves and 1 tablespoon salt. Add 2 quarts water and bring to a boil. Cover the pot and simmer until the beans are tender, an hour or more.
2. Meanwhile, make a sofrito. Cut the remaining ½ green pepper into ¼-inch dice. Peel and finely chop the remaining garlic. Heat the olive oil in a very large skillet over medium-high heat. Add the bacon and cook, stirring occasionally, until it starts to brown, about 5 minutes. Add the green pepper and onion and cook, stirring, until slightly softened, about 3 minutes. Add the garlic, jalapeño (leave out the seeds if you don't want it too spicy), oregano, cumin, black pepper and 2 teaspoons salt and stir for another minute. Pour in the vinegar and scrape any browned bits from bottom of pan with a wooden spoon. This is your sofrito.
3. When the beans are cooked, discard the bay leaf. Remove and set aside the ham hock and let it cool. Transfer 1 cup of beans to small bowl, mash them into a paste with the back of a fork and return to the pot. Add the sofrito, then the sugar. Pull the meat from the ham hock, leaving behind any white sinew or gristle. Chop the ham into ½-inch pieces and return it to the bean pot.
4. Stir the beans well and bring to a boil over medium heat, then lower to a simmer and cook, uncovered, for 20 minutes or so, skimming any foam from the top. Taste for salt and serve with white rice. Serves 8 to 10. Adapted from "Tastes Like Cuba," by Eduardo Machado and Michael Domitrovich.