by Lisa
I've written about salmon backs before, twice, actually, but they're so good, and fast and economical they deserve more notice. If you can get salmon backs from your fishermonger, or counter, or farmer's market, BUY THEM. Don't be afraid, even though they're weird looking and long and bony and flat and will appear to be the opposite of what you want in a good piece of fish.  But they are full of flavor, and easy to fix.  They will likely not be on display. ASK if you can get them.
Then, you can add this to your ways of preparing them:
sprinkle with salt
drizzle with white wine
Rub with a grainy, country dijon
fold over lots of leafy ferns of fresh dill
Refrigerate, covered, or in a bag for as long as you have.  Grill or bake at high heat (425 degrees) for 5 minutes.  Let cool slightly, and with a fork, flake the meat off the bones. This is easy.  Serve immediately, or later at room temperature.
This is what they look like before cooking: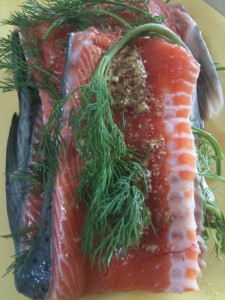 Salmon backs go beautifully with grilled bread, a side pasta dish, crackers of all sorts, eggs and bagels for a fancy brunch. They also make a really mean fish taco.  Last night, Finn ate three.