I've written here before about the food my family takes to travel, the food we've eaten on journeys, even the food that has greeted us on our return, but not yet about this particular food/travel issue: cleaning out the fridge before leaving on the trip.
Tonight, on the eve of our 2+-week vacation, and with friends coming to stay in our house ten days from now (and so a week before we get home), I had to think carefully about what we should use up and what could stay put. When the eggs ran out late last week, I didn't replace them; that half loaf of sandwich bread goes in the freezer, as does that end of baguette, sliced into cubes for croutons and tossed into a bag. We'll use up the milk in the morning, but the last stick of butter will be fine. It's the produce that's trickier, of course. Tonight I found myself adding lots of vegetable sides to our pasta dinner: green salad with shredded carrots; roasted zucchini; roasted potatoes; fresh snap peas. The meal looked a bit like this, the kids ate a ton, and the crisper was nearly empty.
Nearly! I still had a bunch of beets to deal with, so quickly pickled them using the recipe recommended by a reader (my sister!); the recipe was fast, and the pickles will keep until our friends arrive.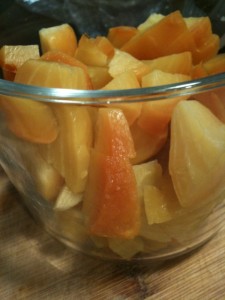 Last up: zucchini, which our CSA has been providing at a rate faster than we can handle. I've made them into pancakes, fritters, and soup; shredded them into salads or tossed them, roasted, onto pasta with walnuts. Tonight, running out of steam, I grated four cups and stuck it into the freezer for a future soup. Then finally, because I always have time to make muffins, made these lemony zucchini muffins from the fabulous King Arthur Cookbook: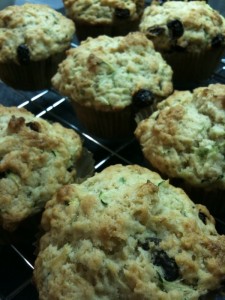 2 c flour (I use a mix of all-purpose and whole wheat flours)
1/2 c granulated sugar
1 scant T baking powder
1 t salt
grated peel of 2-3 lemons (the recipe calls for the peel of just one lemon, which just isn't enough for me)
1/2 c chopped, toasted walnuts (optional)
1/2 c raisins (optional)
2 large eggs (I'd run out of eggs, but luckily still had egg replacer from when my vegan niece lived with us last year!)
1/2 c milk
1/2 c vegetable oil
1 c shredded, unpeeled zucchini
Preheat the oven to 400.
Combine the flour, sugar, baking powder, salt and lemon peel in a large bowl. Stir in the walnuts and raisins.
In a 2-cup liquid measure, combine the milk, oil, and eggs. Pour into the dry ingredients and stir until just barely combined. Fold in the zucchini.
Spoon batter into a 12-cup muffin tin and bake for 20-25 minutes, until a tester comes out clean. Let cool in the pan for 5 minutes, then turn out of the pan to finish cooling.
Some of the muffins will come to the airport with us tomorrow, and the rest will wait in the freezer for our friends, because if we can't greet them ourselves, at least we can greet them, in absentia, with muffins.