Like all other families with school age kids, we're back in full swing,which means afterschool activities most days of the week, homework for the 3rd grader, and a generally full schedule from 3-6:30, which is more or less when my kids start getting ready for bed.  We have an early lights out around here, basically because my two need it to stay tantrum free rested.  This discipline really does work to keep the peace here, day after day, but it does mean getting dinner on the table fast and early.  This can be a challenge when we don't get home from swimming or soccer until 5:15 or 5:45 pm.  I have to plan ahead, know what I want to cook, what I need to prep at lunch or after school while Ella is doing homework, so it's all ready to go as soon as we walk in the door.  I aim to get dinner on the table in 20 minutes most nights–which is the time it takes for them to wash off the dirt and sweat from the field in the bath.
I try to set the table (or counter in this case) after school while homework is being finished and playing ensued.
Generally speaking, I'll have a small salad or two ready to go as an appetizer as soon as they sit down, so they have something to eat immediately post-bath, in the event that the the main course takes a little longer.  Last night it was this: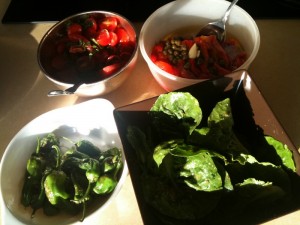 Tomatoes, Roasted peppers, pimentos di padrone, romaine leaves
This looks like a lot of work, but it's not:  The Roasted peppers with garlic and capers I had made on Sunday and simply had to pull from the refrigerator before we went to practice); padrones take 60 seconds to fry; romaine salad had been prewashed and bagged, also on Sunday, and the mustard vinaigrette I made on Sunday for the week–equal parts country mustard and red wine vinegar, smashed garlic clove, pinch salt, olive oil; fresh cherry tomatoes with olive oil, balsamic, and torn basil took maybe 2 minutes  The early prep meant all 4 of these salads were on the table in less than 5 minutes. Even though I do this all the time, it is a huge relief and great satisfaction every single night I can get dinner on the table swiftly and easily. It never gets old.
I like serving several small salads for two reasons:
It looks pretty. I say never underestimate what the good looks of you food can do for your happiness at the table and your kids enthusiasm for eating.
It gives them choices.
The corollary to #2:

With choices, the kids learn to serve themselves, take a variety of foods and adjust their portions.  Exercising control and self-control is a crucial part of learning to eat, and I'm not just talking about manners. We work on that, every night (sigh), too.
All that was left to do was slice some fresh bread and cook a very simple but very flavorful pasta with oil and garlic, which can be made in the time it takes to cook spaghetti–about 12 minutes, water boiling include.
This is one of my favorite vegetarian ways to eat: a very simple pasta + lots of side salads.  Think Italian: This rubric is really just an antipasto + primo –which is all we need most weeknights. Add a glass of wine for the grown-ups and a dolce for all (we had peach sorbet and waffle cookies)–and your time is spent enjoying a fresh, home cooked meal and not stressing over how to get it all to the table.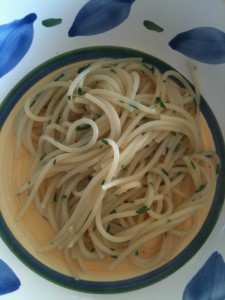 Spaghetti with Garlic and Oil
2 garlic cloves
Olive oil, probably a scant 1/4 cup. (About enough to coat the pasta)
A handful of chopped parsley
1/2 lb spaghetti
Bring a large pot of water to a boil.
Finely chop garlic.
Heat oil in a small pan & sautee garlic until it just barely turns brown. Remove from heat.
Break pasta in half and cook until finished. Drain and return to pasta pot.
Pour most of oil over the spaghetti, scraping to get most of the garlic out. Toss oil, spaghetti and parsley until well mixed over very low heat.
Remove from heat and add the extra tablespoon of oil.
Serve immediately. With cheese if you prefer–but it's not necessary.
*Note: We had so many salads, a small serving of pasta was sufficient for us. But if you have fewer salads, go ahead and use 3 cloves of garlic,  a little more oil, and 1 lb. spaghetti.