By Lisa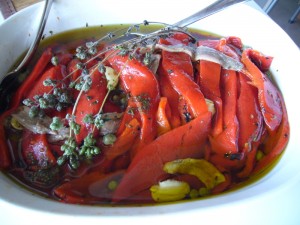 The padrone-eating incident (now updated with pictures) was not without precedent.
One of our family staples, especially when it's high pepper season, is dish of roasted red peppers bathed in olive oil, with capers, garlic, and anchovies.
Before you stop reading at "anchovy," please consider this: a mysterious alchemy occurs when the peppers meet anchovies and garlic in a bath of olive oil.   The peppers mellow and deepen in flavor, the anchovies sweeten and lose some of their bite.  You can choose not to eat the anchovies.  Or if you are still squeamish, you can, if you must, leave them out altogether, though you will be missing something.
I have served this dish many, many times at parties, to unsuspecting friends, and it disappears quickly. I have served it to children, at dinner parties–not just my own–who have devoured it.  I have served it to my father-in-law, who hates anchovies, but still loves the peppers.
Truly, this is a dish that is more than the sum of its parts.
Every Sunday, all summer long, I made a large dish of these peppers and stashed it away in the refrigerator to marinate. I am not exaggerating when I write that this dish came out nearly every night, as appetizer or side dish. Ella tucked into it with abandon, piling her bread high with peppers, sprinkling a caper or two, then soaking the whole thing in a spoon or two of the marinating oil.  By the end of the summer, even Finn, who is a more cautious eater, was fighting her for a pass at the olive oil, which is liquid gold in its own right.  At parties and barbecues, Ella's self-appointed job was to make the plate of the pepper-crostini. They're bright and pretty on the plate, and they go just as well with beer as with prosecco.  We never got tired of them.
In the winter time, or for big parties, I make the same dish from jarred roasted peppers. In summer, when peppers are in season, I bring home my weekly stash of red, yellow, chocolate peppers, and roast them on the grill. If I'm really pressed for time, I can throw the peppers in the convection oven, but they aren't quite as good this way.  It will keep easily for a week, covered in the refrigerator.
The recipe comes from the pages of Marcella Hazan's Classic Italian Cooking,  one of my go-to books when I have a fresh, local, seasonal ingredient and want inspiration.
Below is the basic recipe, with my notes & variations. Once the peppers are roasted, there's nothing simpler. Consider it insurance for those pre-dinner hunger attacks.
Roasted Peppers with Garlic, Capers, and Anchovies
Ingredients:
Roasted peppers
Whole smashed garlic cloves
Capers
Anchovies
Oregano
Olive oil
Slice peppers. Smash garlic cloves with the flat edge of the knife, peel and discard skin.
Layer peppers in a shallow, flat bottomed dish. On top, place a smashed garlic clove, 2-3 anchovies (or more or less to taste), a sprinkling of capers, a sprig or dash of dried oregano.  If you roast the peppers yourself, you might sprinkle a very little coarse salt on them. Do not do this if the peppers are jarred.
Repeat the layering process until your peppers are gone.
Bathe the entire dish in olive oil.
Refrigerate overnight.
Serve with sliced Italian bread
Ingredient notes:
Peppers:  Red are traditional and the sweetest, but try different varieties as accent colors and flavors if you're so inclined.
Anchovies: Only buy anchovies packaged in glass (not tins). My experience has been that the more you pay, the better product you get. There is a vast difference in quality between cheaper and more expensive brands.
Oregano: Dried is just fine. Fresh sprigs are fine.  My favorite is to dry sprigs from my bush, and use these. They're pretty and flavor is best.  If you use dried sprigs, you'll likley need only 3 or so for a large dish.
Capers: If you use salt-packed, rinse them well.
Olive oil: Just a good, decent extra-virgin is fine. Nothing fancy. You need a lot of it, so I just pour from whatever big tin I've got on hand that week: Sagra, Whole Foods, etc.
In the case of this recipe, for me, omissions are very often accidents. I've forgotten to add: capers, oregano, salt. I've run out of anchovies before I started, then it was too late to get to the store. You can assemble it meticulously, so it looks like a beautiful strata of color, or you can throw it together in a haphazard flash.  The dish may be best with all of the ingredients, but it's still delicious in whatever configuration you and your family prefer.  Just don't leave out the garlic.