Two days ago, my fifth grader left for school declaring, "Time to face global climate change!"  It's been 85, 90 degrees here. In October.  By 4 pm, our house, with it's western facing wall of windows, is a hot box.  We're steamed out of the kitchen. I'm certainly not cooking, and we're certainly not eating in there.  Also, there have been the debates. And baseball. Which = a lot of TV dinners.
I'm not complaining.  Thanks to the thermoses, lunch is the main protein delivery vehicle of the day.  (More orange chicken and brown rice! more Swedish meatballs! And fish and chips! And fruit-heavy raspberry milkshakes–which made me something of hero for about 15 minutes after school… )
So I've been playing dinner fast and loose:  leftover beans and rice from the school social; BLTs; deviled eggs; crabcake sandwiches; ceasar salad.   Whatever is cold, fast, able to kept at room temperature, eaten with one utensil (or none) while sprawled on the floor or carried to a bench in the back yard, or even the front stoop.  Right now, dinner is the most casual meal of the day.
In that spirit, I played fast and loose with this interpretation of the classic Vietnamese sandwich, banh mi.  This really isn't banh mi, it's sort of banh mi-ish. It's related to the original in the same, improvisational way that current our dinners are related to the meals we used to eat sometime in the early evening. Banh-mi-like….dinner-like. You get the idea.
Whatever you call it, it's a good sandwich. I was craving a banh mi, but I was missing the baguette, the radish, the fish sauce, and I only had a few carrots. I did have: cucumber, sturdy lettuce, whole wheat buns…I made it work this way: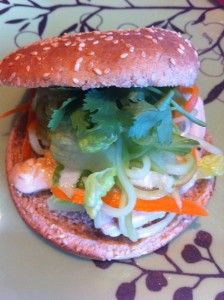 1 lb boneless chicken breast
1 lime
4 cloves garlic, minced
1/4 cup grapeseed oil
1 tablespoon salt
1/4 cup rice vinegar
1/2 cup water
1/4 cup sugar
Red chili pepper flakes, to taste
1 cucumber, peeled and seeded
a handful of carrots
Romaine lettuce
cilantro
4 sesame buns for serving
Cut into fingers and marinate in the lime juice,  garlic, dash of red chili peppers, grapeseed oil, and salt.
In a small saucepan, heat 1/2 cup water, 1/4 cup rice vinegar, 1/4 cup sugar until sugar is dissolved. Remove from heat and let cool.
Julienne cucumber and carrots. Finely shred the lettuce. Toss with vinegar/sugar solution and chill briefly.
Tear off a few leaves of cilantro.
Grill chicken until cooked through.
Place chicken on bun, top with slaw and cilantro.
Caroline's much more authentic tofu version is here.