with apologies to the non-breeders, and the breeders who've already run this particular gauntlet…
Because I know the world doesn't really need another school lunch post…
But: if we're going to talk learning to eat, I can't avoid the fact that I have to re-learn the school lunch thing every. single. year.
Because every single year the situation changes.  In the beginning there were bentos, with baby vegetables, and dipping sauces, and Japanese stickers. Then there were bentos with sandwiches in cute shapes, and hard boiled eggs molded like kittens or fish, and rice pressed into hearts and stars. And notes. I kid you not.  But back then, in the beginning, there was only one meal to pack every morning, and only one child to feed before 7:30 am, and actually, back then I wasn't the one making breakfast, which was a very nice situation. But that situation changed.
Then there were two, and one of them was older, and she only wanted to eat what her friends were eating.  There were a lot of things that were Not Allowed in The Lunch.  There were a lot of sandwiches for a long time.  Routine, repetition, predictability, comfort–these were paramount.  In lots of ways, they still are.
Then there was the year my book was published, which included a lot of joy but also relentless fatigue. This year happened to coincide with a whole lot of growing and eating. Both kids seemed bottomless pits of insatiable hunger.  Thankfully, this year also coincided with a new school lunch program, and slowly, those after school blood sugar crashes subsided. Mostly.
But this year is different. I'm taking a sabbatical from teaching, which means I can't quite bring myself to shell out $4.50 meal x 2 every day for that hot lunch.  I did, however, shell out the money for two good thermoses.  And they have changed my life. For one thing, they work. Unlike the old ones we had, in which mac & cheese congealed into a clotted mess of cold pasta by lunch, these actually keep things hot. They also keep things cold.  It's not rocket science, I know.  Now the options seem manifold:  think anything with rice, anything canned, frozen, stewed. The frozen food aisle at Trader Joes is my new favorite place. Also, I'm finding it easier to prep these things in the morning.  Fewer steps. Less mess. No crumbs.
A short list of Things They Will Now Eat For Lunch:
Turkey Chili + corn bread
Mac & Cheese
Swedish Meatballs
Orange Chicken + rice
Strawberry smoothie + Nutella sandwich
Pasta with tomatoes, eggplant, + mozzarella
Pasta with pesto
Mini hot dogs
Pot stickers + rice
Making lunch is not really my favorite part of the morning. But it's not too terrible, either.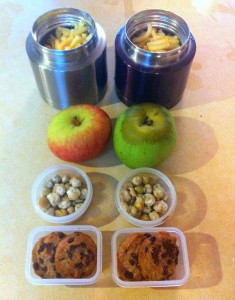 Mac & cheese, apples, wasabi peas, mini chocolate chip cookies