by Caroline
I have to admit, as much as I adore my children, and as good as they are at eating out, it's rare that Tony and I eat dinner alone at a restaurant and I think, "I wish the kids were here!"
But that's exactly what I thought when Tony and I first ate at Zero Zero, a pizza and cocktail place in downtown San Francisco, and I saw their mix-and-match dessert menu. You pick a base (ricotta donut, warm chocolate cake, or sticky toffee pudding), you pick an ice cream (chocolate, vanilla, or swirl); and then you pick from the glorious toppings: hot fudge; chocolate bacon bark; olive oil and sea salt; vanilla poached cherries; chocolate-orange-hazelnut shell. It appealed to me, but I knew it would really delight the kids, and I'd been trying to think of a way to get them to this dessert ever since.
The problem is that neither of the boys really likes pizza, and I am too cheap to spend $10 a plate on the plain pasta they would likely order as an alternative. I considered taking them for brunch, but couldn't imagine letting them order dessert after an order of deep fried French toast with caramel bananas. You see my dilemma. I bided my time, hoping the right opportunity would arise eventually.
It took a few years, but recently the planets aligned just right. Friends of the boys had slept over, and the kids had all enjoyed their typical breakfast followed (after some LEGO spy games) by a big waffle and fresh fruit brunch. Then we all headed downtown to the California Historical Society's exhibit on the Golden Gate Bridge (which you really shouldn't miss). We went over to Yerba Buena Gardens afterward to run around, walk through the MLK, Jr. Memorial, and climb trees.
The boys' friends went on home with their parents at that point, and we found ourselves downtown in the late afternoon, a bit hungry, not ready to head home yet. I remembered Zero Zero. "Salads and dessert?" I suggested to Tony. And off we went.
The boys read peacefully while Tony and I had cocktails.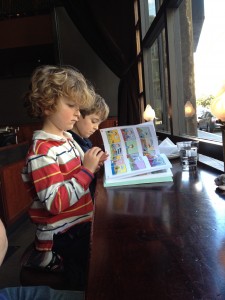 We all ordered salads: Caesar for Eli and Tony; mixed greens with shaved artichokes, fennel, green olives and herbs for Ben and me: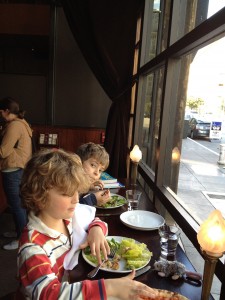 And after that, felt free to go to town with the dessert menu. First Ben: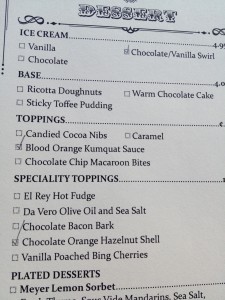 And then Eli:

They ate happily, of course:

At various points along the way, our plan could have gone awry: the restaurant might have been closed, or crowded, or the kids not interested in salad, or unable, after the busy day, to sit and make salad a good meal. But the planets aligned for us in that way, too, and our time at the restaurant just capped off a lovely, rare day, so I didn't even mind when I asked Eli to share a bite and he laughed and answered like this:
I just laughed and took my picture — and my bite.