Let's just say there was a storm. It might have been a terrible rain storm, with high winds, and dark skies, and cold slashing rain that I watched, miserably, through the kitchen's glass wall.  It might have been a squall between the kids, a tornadic escalation of he said/she said spinning destruction through the house. It might have been a tempest between me and my son, or me and my daughter over what's (not) for dinner, or homework, or cleaning a room, or doing a chore, or feeding the cat.  It was all of that, or some of that, and more. It was a soul-killing storm.
I struggled to bale myself out of the misery and cook dinner. Inspired by Joan, Pietro's wife, and the chicken Milanese we love, I dredged fresh fish in flour, then beaten egg, then fresh bread crumbs. I fried it in a pool of limpid oil.  It turned golden brown, exactly, miraculously, as it was supposed to.  The skies hadn't cleared, but dinner was done.
And then, we entered the eye of the storm.  Hungry and exhausted the kids came to the counter. We ate. It was delicious: fragrant, moist, crackling pieces of fish. Sweet cornbread. Tender, lemony greens. More fresh, hot fish.
And then, too soon, we were spun out of that silent, still place, back into the terrible squall.
Dinner did not save us. But it gave me a pale ray of hope. Which is, I suppose, the thing our soul most needs. That, and sometimes, a good new recipe.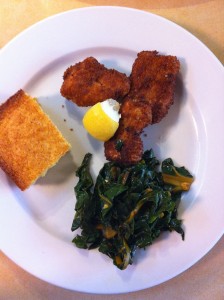 Fresh Fried Red Snapper
1 lb fresh Red Snapper filet (not previously frozen)
2-3 eggs, beaten
flour for dredging
2-3 slices whole wheat bread, processed into fine crumbs
pinch salt
canola oil for frying
Carefully check the fish filets for bones, and with a pair of tweezers, remove each bone completely.
Cut the fish into nugget-sized pieces. Where possible, cut along the natural lines of the filet.
Set out 3 bowls, large enough to accommodate the fish. Fill one with flour, one with the beaten eggs, and one with fresh bread crumbs.
Add up to a teaspoon of salt to the flour.
Pour the oil about 3/4 inch deep in a frying pan and turn on heat to medium high.
When the oil is hot, dredge each piece of fish in flour, then coat completely in egg, then cover in bread crumbs.
Fry the fish until one side is golden brown, about 3 minutes. Then turn and fry on second side.  Be careful not to crowd the pan.
Drain briefly on a paper towel covered plate.
Serve immediately, with lemon wedges, aioli, sauteed greens, cornbread.