I've come to learn the hard way that it's not a good idea to introduce new food on a weeknight, especially not after a long afternoon on the soccer field.  When the kids sit down to eat at 6:40 (if we're lucky) on Monday nights, it's cold, it's dark, they're covered in turf dirt, and all they want is something warm and familiar. You can't really them. It takes energy to try new things, and an hour before bedtime is not a good time to ask them to rally.
So this week, I made the new (to them) soup in the slow cooker on Sunday. This way, if there were tears, at least it would be early in the night, bedtime wouldn't be jeopardized, I could mitigate the damage.  As a precaution, I served the soup with the pannini they love.  They could decide what to eat.
We all pitched in with the final prep.  The soup, which is about as far as I've ever gotten in Julia Child's classic cookbook (in case you don't know, it's the first recipe…), was delicious.  And even though they were reluctant to stop eating the warm bread and various kinds of pork on offer (Finley has taken to repeating, "Ham? Yes! HAM!!" and bouncing in ecstasy whenever said meat is offered to him), both kids  admitted they liked the soup and drank their cups without complaint.  Small victories.  More: the leftovers have kept Kory and I fed these past few cold nights.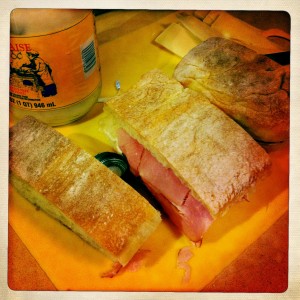 pannini prep: ham & swiss, salami & swiss, just swiss
Dad's kidtinis
Finn tests the immersion blender…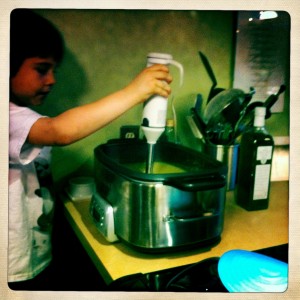 no kids harmed…
Ella's table
Potato and Leek Soup
3 large baking potatoes, peeled and chopped into 2 inch pieces
2 large leeks, cleaned and sliced into rounds, including white & tender green leaves
2 quarts water
1 tablespoon salt, more to taste
3-4 tablespoons butter
Place all ingredients in large pot or slow cooker, cover, and bring to simmer.
Simmer soup 1-2 hours, until leeks and potatoes are tender.
Using an immersion blender, blend until smooth. Add butter and blend until mixed. Taste and adjust seasoning.
Serve immediately.