by Caroline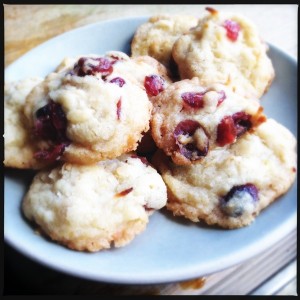 Apparently some folks out there have strong feelings about coconut. I have even heard the H-word bandied about. Not in my family, though. We put it in granola, in cake, in amazing no-bake brownies and ice cream, quick macaroons and muffins. And while mostly we bake with it (and I admit it was fun sifting through the archives to find all our coconut recipes) we also put it in savory dishes like curries and kale.
So of course I was going to try this cookie recipe from Sunset Magazine, which incorporates three of our favorite winter flavors: orange, cranberry, and coconut. If you're a coconut fan, you'll want to give them a try.
1 1/2 cups (3/4 lb.) butter, at room temperature
2 cups sugar
1 tablespoon grated orange peel
2 teaspoons vanilla
3 1/4 cups all-purpose flour
1 teaspoon baking powder
1/4 teaspoon salt
1 1/2 cups dried cranberries
1 1/2 cups sweetened flaked dried coconut
Preheat the oven to 350.
In a large bowl, beat the butter, sugar, orange peel, and vanilla until smooth.
In a medium bowl, mix flour, baking powder, and salt. Add to the butter mixture, then mix until dough comes together, about 5 minutes. Mix in cranberries and coconut.
Shape dough into 1-inch balls and place about 2 inches apart on buttered 12- by 15-inch baking sheets.
Bake until cookie edges just begin to brown, 8 to 11 minutes (shorter baking time will yield a chewier cookie; longer baking time will yield a crispier cookie). Let cookies cool on sheets for 5 minutes, then use a wide spatula to transfer to racks to cool completely.