by Caroline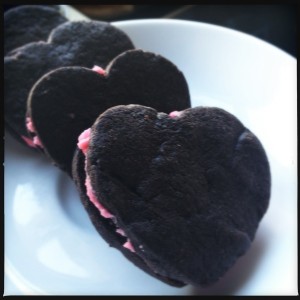 I know I've posted this recipe for Oreos before, but it is so easy, and so delicious, it's worth reposting. This time I happened to make pink filling for Valentine's Day, but you could make egg-shaped Oreos with pastel filling for Easter, or baseball Oreos for your kid's team, or you could simply make Oreos today because it is Friday and that's as good a reason as any.
Oreo Cookies
In a mixing bowl, beat till fluffy
1 cup room temperature unsalted butter
1/2 cup sugar
In a separate bowl, sift together
1 3/4 cups flour
3/4 cup cocoa*
1/2 tsp salt
Gradually add the dry ingredients to the butter to make a stiff dough. Remove from the bowl, knead a couple times on a lightly floured board to make sure it's fully combined, then shape into a disk and refrigerate 4 hours or overnight.
To bake:
Preheat oven to 350°. Cut the dough into quarters. Working with one quarter at a time and keeping the remainder cold, roll out to about 1/4" thickness. Cut into circles or whatever shape you desire, place on a cookie sheet, and bake 15 minutes or till firm. Cool on a rack. Repeat with the rest of the dough.
When cool, make sandwiches with the following filling:
1/2 cup room temperature unsalted butter beaten till fluffy with
2 1/2 cups confectioners sugar and
1/2 tsp. vanilla
*Note: I use half regular cocoa and half black cocoa (available from King Arthur Flour) for a real "oreo" color.