Salmon Backs are a seasonal favorite around here. If salmon is in season, we're sure to eat this cut of the fish nearly once a week. It's fast, flavorful, and really economical.  I can't afford to keep my family in salmon filets or steaks, but I can afford to feed them piles of salmon backs: in tacos, "ceviche" flavored, lox style, etc.
Earlier this week I made some on the grill and we ate it in soft Middle Eastern flatbread with cream sauce, cabbage, and lime.  As usual, it was delicious. I had to stop myself at two, and Finn at a pile with his spoon. But we still had some leftover, which Ella called dibs on, but then I had not a tortilla in the house.  I offered her crackers, a range of breads, fresh sesame rolls. She chose the rolls and made this sandwich, which is basically taco fillings on a bun. Of course  you can use another cut of fish, but it wouldn't be the same, because this is basically the fish equivalent of a sloppy joe:  piles of light, loose grilled fish, a creamy sauce, a squeeze of lime for flavor, a bit of cabbage for crunch.
I was happy to let Ella take control of her meal, and even happier that she gave the family another way to keep seasonal eating fresh.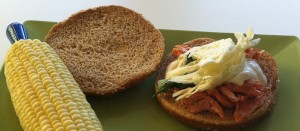 Grilled Salmon Back Sandwich
1-1 1/2 lbs Salmon backs
1/2 cup white wine
1/4 cup Meyer lemon juice
1 tsp salt
two handfuls of cilantro, leaves and stems + chopped cilantro for serving
2 cloves garlic chopped
Cream sauce:  equal parts mayonnaise, sour cream or plain greek yogurt, and cumin to taste
shredded cabbage
lime wedges
Sesame Buns
Marinate salmon for a few hours in white wine, Meyer lemon juice, salt, a few handfuls of cilantro,  garlic
Grill salmon on high heat for five minutes, until just cooked through.
Let salmon cool, then flake meat off the bone
Pile fish on fresh sesame buns and garnish with cream sauce, cabbage, and extra cilantro and lime  as desired