Or, Not Such a Terrible, Horrible, No Good, Very Bad Dinner or Day After All…
It's 4 pm and I have no desire to cook dinner nor do I really feel inspired.  I have lots of options: tofu, kielbasa, any variation on the egg, many variations on pasta, tacos…However, it's 90 degrees, October, and I just have that in-between/nothing- feels-just-right feeling. That, plus we have 2 great parties to go to this weekend, so I am, perhaps, starting my cooking-holiday a day early, psychologically speaking.
But we do have to eat, especially the kids, and eat soon.  And the plan is to get this one: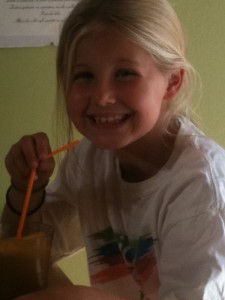 The 8-year-old
together with this:
My late in the week refrigerator: salamis, cheeses, lettuces, green and yellow beans,
tofu, sausages (in freezer), lots of fruit, leftover french toast, eggs…
She's been asking to cook dinner for a while now, so I'm going to let her–with supervision. Stay tuned.  In a few hours, I imagine she'll have something from the following list:
eggs, scrambled or omelet
fresh bread
white beans
salad
yellow bean vinaigrette
charcuterie plate
pasta with fried egg
mystery meal?
I'll post the result before the end of the night…
6:16 PM
One 3rd grader's homework done, one Lincolon Log cabin, and one major meltdown over conflicting building priorities  later, we took the easy way out:
Egg sandwiches on the sesame buns left over from the panelle, yellow beans & shredded carrots w/olive oil and red wine vinegar, and padrones.
Finn set the table.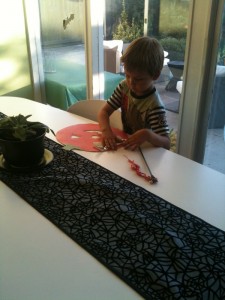 I made the beans, but Ella–with close supervision–fried & served the peppers.
She cracked two eggs–but the yolks broke so they became test cases. I cracked the two more (since they were the only two left), and she gently fried and successfully placed the eggs on the buns without breaking the yolks.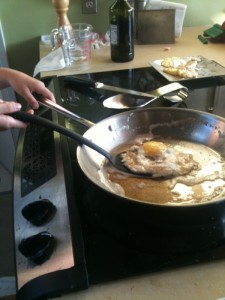 And she took the final photo of a perfectly successful dinner that is pretty much their version of comfort food. It's certainly not fancy, but it was fast and fresh, and well, some dinners are like that. (Here, and probably in Australia, too.)  It was a nice way to bring the three of us back together and around the table.