These salads are so simple that they hardly deserve a post, but they have become very popular in our family this summer, and since we write about all the ways that we eat here–the simple and the fancy–they are getting the attention they deserve.
If you've followed me for any time at all, you know I'm a purist. I like food that looks like food–impeccable, fresh, seasonal ingredients, prepared so we can (generally speaking) identify them on our plate. Simply prepared, simply dressed, simply presented. I think this helps kids to know what they're eating, develop a range of taste, and connect more closely with what their food is and where it comes from.
So most nights our salads are simple–1 green lettuce–dressed with olive oil and a vinegar and maybe  a fancy salt.  But with the abundance of fresh herbs in our garden and at the market–especially basil, mint, chives, and cilantro–I've taken to tossing whole and chopped herbs into the salad, basically treating the fresh herbs like another green.  I was inspired by Green Goddess dressing, which is basically a vinaigrette-ish concoction of many different herbs and a creamy avocado.  Why not throw the herbs in whole? or in a fine chiffonade (thin slice) or roughly torn? So I did, and it was terrific–summery and surprising.
A tender butter lettuce works best, and I dress this herb-filled salad it with a simple vinaigrette of 3 parts olive oil to 1 part white balsamic and there you have it–a  fresh, aromatic plate of greens. The kids love it, but if you're are ways, you can start slowly, with just one herb they love.  You can even add a chopped avocado to make it more closely hew to a true green goddess dressing.  My favorite green goddess dressing is from here, and we use it also to top grilled fish.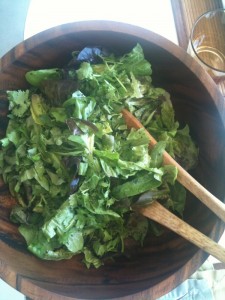 This was one of the salads we served on Saturday with the wings. The other was a country potato salad, which suddenly this summer the kids have decided they love.
Country Mustard Potato Salad
Potatoes (To serve 8 (we had leftovers) I used 3 red potatoes, and 4 large bintje potatoes–which are exceptionally tender, sweet, and creamy. If you can't find them, any kind you like will do.)
Country mustard
White vinegar (rice, white balasamic…or whatever you prefer)
Olive oil
Mayonnaise
Boil the potatoes whole in a large pot of well-salted water until tender but still holding their shape.
When cool enough to handle, peel.
Cut potatoes into large chunks (about 6-8 pieces per potato).
In a measuring cup mix together 1 T country mustard, 1 T white vinegar, 1/4 cup vegetable oil.
Pour dressing over potatoes and gently toss to coat.
Add 1 large T mayonnaise directly to dressed potatoes. Toss gently to coat.
Season with salt and pepper to taste.